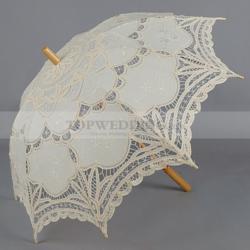 (PRWEB) May 18, 2013
TopWedding.com is a well-known one-stop wedding solution provider, offering many hot styles of wedding dresses and wedding accessories. Today, the company announces its wedding accessories sale for the Summer 2013, and all customers can enjoy a discount, up to 60% off.
The wedding accessories from TopWedding.com mainly include wedding parasols, wedding bolero jackets, wedding veils, and more. All of them are ensured to be made with premium quality materials and dedicate craftsmanship. Now, they are all offered at greatly discounted prices. Take one of the wedding parasols (called "vintage ivory cotton lace bridal parasol with a long wood post handle sun only", model number: SKU HS130B01) for example: Its current discounted price is $22 only.
"We are really excited to launch the promotion, and make our products available to more customers worldwide. All our wedding accessories are romantic featuring a lot of lace, ruffles, ribbons, and flowers. Our designers hope to help every fashion-forward bride who wants to stay on-trend for the big day," says, Edmond Liu.
As a leader in the industry, TopWedding.com is also offering nearly 200 different styles of bridal shoes from various designers, prices between $60-90. In addition, discounted wedding shoes are also available at TopWedding.com.
About TopWedding.com
TopWedding.com is a leading online shop, devoted to providing trendy bridal gowns, bridal party dresses, groom wear, bridal accessories, and wedding accessories to clients worldwide. The company aims to be one of the best one-stop wedding solution providers by offering its clients with high quality wedding products and services on a global scale.