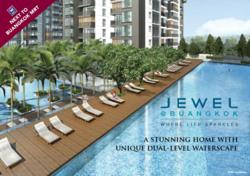 Jewel at Buangkok offers all the exclusive elements that ensure a high standard and comfortable life in Singapore.
Singapore City, Singapore (PRWEB) May 30, 2013
The project Jewel at Buangkok, where life sparkles, has come to life with the help of City Development Limit, which is one among the top rated real estate developers in Singapore. The active participation by The New Launch, one of the pioneer virtual real estate showcases in Singapore, has brought this development to all of the potential real estate buyers and investors from all over the world.
Singapore is a fast growing strategic gateway between the East and West, as well as a cultural melting pot, which connects through media companies from all over the world. Excellent infrastructures and creations of artistic minds in Singapore are always attractive to anyone around the world.The project Jewel at Buangkok has come to light to make sure that people's lives do sparkle. Additionally, to unleash the opportunity to claim proud ownership in this project, 'The New Launch' has all the detailed project descriptions and ownership terms & conditions.
Jewel at Buangkok offers exclusive elements, which ensure a higher standard and more comfortable life in Singapore. Jewel at Buangkok is just 2 minutes walk to the Buangkok MRT or 30 minutes by vehicle to reach the city area via Central Expressway or the Kallang-Paya Lebar Expressway. The project offers prospective owners a sparkling life in Singapore that everyone has always wanted to have.
Singaporean or foreigners can claim proud ownership at the Jewel at Buangkok. The project stands for quality completion with the use of branded appliances and equipment, which has brought it to the top of the Singaporean Real Estate Industry. The project facilities include a guardhouse, playground, clubhouse, swimming pool, poolroom, piano room, indoor gym, reading room, Yoga room, hydrotherapy baths, hydrotherapy beds, function room, Jacuzzi, shopping complex, and everything else to ensure a serene life.
A wonderful and luxurious lifestyle with high quality and well-organized finishing designs has made this project one of the greatest additions to the Singaporean Real Estate Industry. The project also offers an excellent opportunity to those who are looking for potential rentals nearby Seletar Aerospace, Changi International Airport, Changi Business Park, Wafer Fab Park, Tampines, and other top-listed residential areas in Singapore.
Residents of Jewel at Buangkok will also be able to enjoy other facilities including food outlets, (self-service) restaurants, recreational parks, sport centers, affordable quantum, regular functional layout, charming contemporary architectures, and much more. More information about Jewel at Buangkok is available at http://www.thenewlaunch.com/jewel-buangkok/.