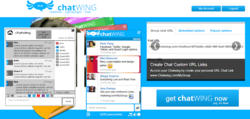 Houston, TX (PRWEB) May 18, 2013
Chatwing.com and its team of creative developers recently launched the new version of their chatbox: 2.0. With this release, the influx of web users doubled, coming from various niche communities and portals. To guide web users, Chatwing team emphasized the famous niche topics that are being discussed in various chatrooms worldwide. Chatwing administrators are always monitoring the chatrooms in order to single out glitches and possible technical errors.

The North Korean Conflict – Since this is already a worldwide issue, it also became famous in Chatwing chatrooms. Many people are getting worried about the possible nuclear war, thus leading to opinion-based discussions. With Chatwing's chatroom linking feature, users can discuss this topic faster. Simply, users can link their chatrooms together under a single network or niche. Another benefit of this new feature is website exposure and traffic generation.
Day Trading and Finance Tips – Commodities are rising, at least according to many commodity trading experts across the world. Chatwing team recently noticed that finance tips are also becoming common discussions in the chatrooms. With these topics, many people can now tweak their financial strategies. They can also share possible solutions to their business woes. Chatwing's social media integration can strengthen these topics—users can simply log in with their social media accounts and expand their networks. They can now find more followers for their Facebook pages and groups.
Console Games – With the rising of technology, games will always gain a favourable spot in the niche topic ladder. Many Internet experts are certain that new games are appearing every year, by the dozen or more. These games have thousands of audiences. Recently, these gamers are exchanging comments and information in the Chatwing chatroom.
With the arrival of Chatwing's latest chat app, users can now reach their online goals in the shortest time possible. It can also improve the way people experience global communication. Chatwing's upcoming upgrades are often discussed in the company's respective Facebook page.
About Chatwing.com
Chatwing.com specializes in the new field of website chat. Over years, the Chatwing chat software team has introduced live chat widget for hundreds and thousands of blogs. The Chatwing application bridges people from many parts of the world, creating global synergy through the Internet. The shout box can be installed in just seconds, and it can be used for varying purposes such as leisure and Internet marketing. It also allows a user to customize the size, color, and name of the widget.