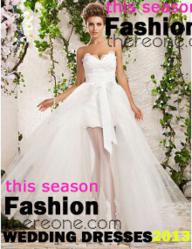 Thereone.com Adds 25 New Celebrity Wedding Dresses to its Celebrity Wedding Dress Collection
(PRWEB) May 20, 2013
On May 20, Thereone.com, a famous wholesale online shopping store for wedding dresses and special occasion dresses, added 25 new celebrity wedding dresses to its celebrity wedding dresses collection. People can find these 25 items on the website and purchase dresses easily.
Last month, Thereone.com launched its celebrity wedding dresses promotion 2013 and provided a great discount on these new dresses to show appreciation for consumers' support. Today, the company released its new styles of celebrity wedding dresses.
Thereone.com has paid much attention to its celebrity wedding dress collection, which feature several characteristics: breathable fabrics, elegant-looking, and individuality. This kind of dress contains various colors, such as image color, white, ivory, pink, and champagne and so on. Thereone.com tries its best to help a bride to show off her unique style with its latest designs. Customers can choose the best suitable wedding dress at Thereone.com.
In addition, Thereone.com pays more attention to meeting ladies' tastes from all over the world. The dresses from Thereone.com are popular and pretty. You can find dresses such as colored wedding dresses, beach wedding dresses, etc. easily on the homepage of Thereone.com.
Vivian, one of customers said, "I love everything about this dress. The celebrity wedding dress is a modern style. The harvest red color makes the dress striking, while the high neck and exposed bust make it unmistakably sexy."
About Thereone.com
Thereone.com is one of the most powerful companies which providing wedding dresses and special occasion dresses at low prices, and its merchandise includes cheap wedding dresses, bridesmaid dresses, prom dresses, evening dresses, and much more. The company's mission is to become 'Your Trendy Destination' of all customers by offering stylish and high quality dresses.
For more details, please visit http://www.thereone.com/