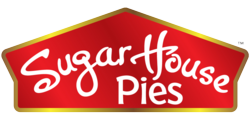 When the company created its Caramel Apple Pie, they knew that it was just scratching the sweet, crumbly surface of future innovations.
Salt Lake City, UT (PRWEB) May 21, 2013
The freezer aisle presents an array of frozen desserts; pie being one that stands out. Pie is a classic American tradition practiced widespread across the country. In order to gain an edge over the competition, SugarHouse is revealing exclusive new flavors for freezer pie suppliers. As a national distributor of a variety of frozen fruit pies, SugarHouse is expanding their selection and broadening their clientele.
Thaw and serve is becoming a high demand product.
Manufactured desserts commonly use the concept of take and bake; SugarHouse specializes in the concept of thaw and serve. Upon purchase, the product simply needs to thaw at room temperature for 2-3 hours until it's ready to eat. This makes them an easy dessert option that is ideal for gatherings and social events. Eliminating the need for an oven, this mode of manufacturing is becoming increasingly common. The thaw and serve concept, along with attentive production methods is motivating freezer pie suppliers to invest in SugarHouse.
New flavors are making frozen desserts more desirable.
Typical flavors that dominate the dessert industry include Apple and Berry; they are commonly seen across a variety of different brands. SugarHouse is announcing the release of three new flavors, changing the momentum on frozen fruit pies. An apple caramel presents a new twist on the typical apple, topping it with an apple crumble and caramel drizzle. The Four Seasons offers four types of fruit, divided into quarters and certain to please any consumer. Apple Cherry combines the best of both flavors under one rich, flaky crust.
"Large manufacturers often rush their orders. They produce their products in bulk, leaving out ingredients and flavors that are vitally important to a delicious pie. We slow our process down and make sure that our frozen fruit pies and our other flavors aren't sacrificing flavor for quantity. We consider ourselves bakers; not manufacturers," says Mark Grandinetti, President of SugarHouse Pies. Placing their main focus on the distribution of frozen desserts, the company prides itself on using only the richest and most quality ingredients with the time tested technique of putting care and attention into each pie. Each of their desserts comes with the guarantee of a rich, flaky crust and quality ingredients. Their staff has a combined 100 years of baking experience, possessing all the necessary knowledge for the perfect dessert. Freezer Pie Suppliers are noticing the variety that SugarHouse offers and are rapidly enlisting them as their main dessert manufacturers. For more information about their services as well as their selection visit: http://www.sugarhousepies.com