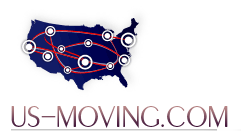 (PRWEB) May 20, 2013
Moving Companies boost up relocation with newer options to provide an easy move. Moving from one place to another is a difficult process. There are lots of factors to be considered before shaking hands with a mover.
For easy moving, our movers have amplified their search options with selected Movers on the list. People can choose from the list by requesting no obligation moving quotes. With a few clicks of the mouse a customer can finally come up with a reliable and reputed mover to safely entrust their valuable belongings to.
The process is quite simple. The customer is expected to fill in the form present on the website of http://www.us-moving.com there is no fear of losing the private details to a third party without the concerned person's consent. The customers do not have to wait for ages to receive a response as the processes take place immediately.
Place a request for a free quote. It is always suggested to make comparisons based on quotes. Hardly a few mouse clicks are essential to obtain the quotes. Once the quotes are obtained the customers can make a decision based upon the existing budget and the quotes in hand.
If the customers are not careful they might fall into traps. Sometimes certain movers might put up high cost estimates in the quotes while some of them put up very low quotes. Beware of both these kinds of movers as they might be fraudulent.
The ones requesting lower quotes might have certain hidden charges. At the time of the final billing they might produce a bill with all these charges. Cases have been reported in the past where the customer who refused to pay for the hidden charges was forced to pay as the company seized the possessions till the payment was made.
Highly expensive quotes might not have hidden charges. But the moving company might be trying to fool the customer by charging unnecessarily a very high amount. Go through all the charges and taxes that they mention in the quotes before ending up with a final decision.
Conduct a background check. Relocation and shifting the valuable belongings carefully is a difficult task. Hence it is necessary to seek the help of highly experienced professionals to move the valuables. Only experienced staffs can provide the necessary care to the belongings while shifting those.
Just conduct a background check about the reputation and experience of the professionals before fixing a mover. Obtain references and go through reviews about the particular mover at hand to arrive at a proper decision.
About Moving Companies – us-moving through their online presence ease out movement from one place to another. People just fill in the form present on the website and obtain responses without being charged any fees or obligations. They possess a list of moving companies specializing in the relocation and shifting of household belongings.