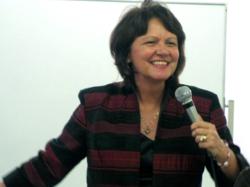 We are thrilled to have Trish Caetano.
Dubai (PRWEB) May 19, 2013
Illuminations is proud to present the Inner Child Therapy Seminars with renowned therapist Trisha Caetano. Seminars will take place over the course of four days, on Wednesday, June 5, Thursday, June 6, Friday, June 7, and Saturday, June 8, 2013.
Inner Child Therapy is concerned not only with the alleviation of symptoms, but focuses on the attitudes, patterns and coping mechanisms that create the behavior and mind sets that cause the symptoms. Participants will learn to live a more integrated and balanced life style, to live in the present and to participate in the creative process that gives meaning to each moment of awareness.
"We are just thrilled to have Trish Caetano at our Center to present several days of seminars," says Soniyaa Kiran Punjabi, founder of Illuminations.
Trisha Caetano is internationally known as a pioneer in Inner Child, Integration and Regression therapies. She has trained psychotherapists and health care professionals in many countries. She does yearly trainings and seminars in Japan and the Netherlands and has been a guest teacher for eleven Dutch institutes. Caetano was President of The Association for Regression Research and Therapies, Inc., a world-wide organization of professionals focused on regression as a therapeutic tool in healing; and director of their training team to certify therapists in this method.
On the lecture circuit in the United States, England and Australia, Caetano has been featured on national and International television and radio programs. She is known as a vibrant and knowledgeable presenter, educator and trainer in the fields of Interpersonal and Transpersonal development and brings energy, humor, insight and empathy to her work.
Starting the three seminars off will be "Understanding the Inner Child" on Wednesday, June 5, 2013 from 6:30 to 9pm and costs AED 50/-. In this session, Caetano will shed light on a journey of self-discovery and show that by gaining awareness of our authentic 'Self' we can manifest the potential that was once our birthright.
"The Odyssey of the Soul Date" is the second seminar on Thursday, June 6 from 10am – 6pm. Cost is AED 800/- (there is a 15% discount for all USICH-ME students). This session is limited to 15 participants. In this one workshop, contributors will have opportunities to explore who they truly are - the magnitude of their soul. The processes are designed for partakers to experience many dimensions of themselves by experiencing their own past and future lives.
The last of the seminars will be "How to Have the Love You Want" and will be held over two days, Friday and Saturday, June 7 and 8 from 10am to 6pm. Investment is AED 1200/- (10% discount for all USICH-ME students). During this weekend seminar, participants will use processes to access and release feelings, behaviors and patterns that may be causing destructive interactions with the important people in their lives to make it possible to improve the present relationship.
For more information, or to register for these seminars, contact Illuminations by calling +971 4 448 7043 or email info(at)illuminationsworld(dot)com.
Illuminations is a Dubai-based holistic well-being center located in Jumeirah Lake Towers. The center was founded by Soniyaa Kiran Punjabi, with the intent of inspiring individuals towards a journey of self-discovery as a key to lasting happiness. The center offers a variety of services based on a holistic approach to self-development with the intention to provide a deeper insight into the mind-body-energy connection influencing the experience of life.