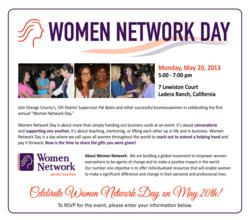 Women Network Day is a day where we call upon all women throughout the world to reach out and extend a helping hand and pay it forward.
Ladera, CA (PRWEB) May 20, 2013
Women Network Day will be observed annually on the third Tuesday of May. It is part of a global movement with a professional and personal focus that inspires, builds community and provides actionable information in order to make a valuable difference and encourage change. The date was established in 2013 by Women Network and the California Women's Conference®. Women Network Day is about women supporting women and giving back to one another. Working together we're better! Who has mentored today? Anyone volunteer today? When is the last time anyone gave internally into the community? Who has given a reference for help to anyone? When you were offered help did you consider and accept it?
Women Network Day will be announced by Orange County Supervisor Pat Bates on May 20, 2013 in Ladera Ranch, California. The proclamation for Women Network Day is in honor of women and men encouraging women to reach their full potential. It is an opportunity for organizations worldwide to share their message and educate the public about the difference they are making. Additionally, on June 15, 2013 WomenNetwork.com will be launched as a place for women to go to share ideas, traditions, upcoming events and much more.
It is fitting that Pat Bates will present the proclamation. She has been a long-time friend of Ladera Ranch — from her support against the Peaker Plant, to sitting on the California Women's Conference advisory board, to being instrumental in the creation of Taste of Ladera, to leading our community in local governance. She continues to be only a phone call away. On a personal note, Pat has been my mentor and exemplifies what Women Network Day is all about — women supporting women.
In conjunction with this meaningful day, the California Women's Conference will be held May 20 and 21, 2014. We are taking a moment and creating a movement! For nearly 30 years, the California Women's Conference women have provided a forum for building successful businesses and positively influencing the world around them, hosting such influential personalities as Oprah Winfrey, Paula Deen, Goldie Hawn, and First Lady Michelle Obama. Organizations from around the world have joined forces to celebrate women! Women Network Day brings these organizations together by continuing the tradition of providing education and opportunities for women to achieve their full potential. We're building a global movement to empower women everywhere to be agents of change and to make a positive impact in the world. The focus is to share experiences and recruit inspirational role models with diverse talents to form quality connections, regardless of origin, race, age, religion, sexual orientation or disability. Our number one objective is to offer individualized resources that will enable women to make a significant difference and change in their personal and professional lives.
Last year an attendee who had a booth at the California Women's Conference was discovered by a media company resulting in a TV show. Another in her late 50's who was retired was so inspired by the conference that she decided to become an entrepreneur and a year later she has a six-figure business. A young women who participated in the teen panel landed a job as a spokesperson for a teen apparel company.
Women Network Day is a day where women call upon all women throughout the world to reach out and extend a helping hand and pay it forward. Volunteer for an hour. If you love to cook make a dinner for a family or share your expertise by mentoring a fellow woman entrepreneur Now is the time to pay it forward and share the gifts you were given. Celebrate Women Network Day — May 20!
For more details visit WomenNetwork.com for information as well as our live-stream of the event. It will be a celebration around the world!