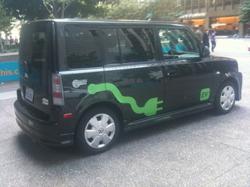 In fact, It's inconvenient to have to stand outside the car in all weather and take time to pump gas. And have you noticed that on some rural Interstate highways you can drive for miles and miles without seeing a gas station?
Greensboro, North Carolina (PRWEB) May 20, 2013
Now that Consumer Reports has given the electric plug-in Tesla Model S 99 points out of a possible 100, the technical potential for electric cars has become obvious. It would have received a perfect score if it were possible to recharge it in 3 minutes. According to Sustainable Green Homes, part of the All-Purpose Guru family of blogs, the inconvenience of recharging is greatly exaggerated.
The prevailing pessimism about the future of electric vehicles is that no one will buy them until refueling stations become as common as gas stations. And no one will build refueling stations until lots of people buy electric cars. David Guion, the former academic who runs All-Purpose Guru, asks, is taking time from commuting to fill a gas tank really convenient?
According to the U.S. Transportation Department, only 3% of all automobile trips are more than 50 miles. It takes 6 hours to recharge an electric car, but that can be accomplished overnight at home. The car can go for more than 200 miles on a charge.
For most purposes, therefore, the driver of an electric car will never have to use any of those gas stations. The time it takes to fill a gas tank is actually inconvenient, especially in nasty weather or when the lines are long.
Trips of more than 200 miles require planning. Only for these trips do electric cars seem inconvenient. Help may be on the way. Some organizations, including the Greensboro Science Center in Greensboro, North Carolina, are beginning to cover their parking lots with a canopy of solar panels.
All the parking spaces will be in the shade, a welcome relief from returning to a car with a dangerously hot interior. These lots can easily become recharging centers. Once they become sufficiently common, drivers can partially recharge their cars whenever they stop for lunch or some other attraction.
The cost to buy an electric car is currently out of reach for most people, but the price of new technology always comes down. With some planning, by the time the cars become more affordable, their real convenience will be evident in contrast to the merely apparent convenience of gasoline and diesel vehicles.
Sustainable living requires information, and then acting on that information. All-Purpose Guru provides environmental information through Sustainable Green Homes and information on more topics in other blogs.
Photo credit: Some rights reserved by greentechmedia.