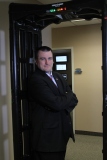 The Command Center is a vital component in the successful outcome of any security mission.
New York, NY (PRWEB) May 20, 2013
Global Elite Group, Inc., (GEG) announced expansion programs to its centralized intelligence command center are now complete. Clients at all levels will benefit from the utilization of the command center that brings communications between all involved, from law enforcement to event planners, into one central location when a situation dictates. "To truly serve the interests of a client during an event or emergency situation, whether it lasts a few hours, a day or weeks, the off-site command center located at GEG's headquarters, is a very important component of any successful assignment," explained William McGuire, President & CEO of Global Elite Group.
The GEG command center has been operational for over 5 years coordinating operations for clients on almost every continent. The completed expansion involved internal upgrades, advanced communications technology, and other enhancements to increase operational efficiencies. The command center which is open 24/7 is used for real-time monitoring, tracking world events, analyzing environmental impacts of weather related and man-made scenarios while assessing threats under the watchful eyes of highly trained security professionals. "The GEG command center is streaming live information from our sources around the globe which can be displayed on any one of the nearly dozen wall monitors. The command center is designed to ensure each dispatcher and security assessment officer can have a clear view of every monitor. Information can also be displayed from the wall monitor to the individual's station as well," explained Joseph D'Ascoli, Director of Special Operations for Global Elite Group.
The functions of the command center can vary based on the client and operations in progress, but will always perform the basic and critical functions of its design which is the collection and distribution of information and resources. Information is filtered from its real time surveillance of operations, CCTV, aerial view tracking/POV view tracking and multiple forms of incoming and outgoing communications sources. "It can be busy in the command center and to an outsider disseminating this information can be almost paralyzing if you are not experienced in filtering and extracting relevant data. This task is seamlessly performed by our trained and experienced staff. This is a highly specialized service offering that can rarely be duplicated by just anyone," stated D'Ascoli. The command center staff possesses training and certifications in the fields of emergency management to physical security to project management along with job specific training to match a client's operational needs. The staff of the command center draws their experience from military and law enforcement backgrounds.
An advanced command center for client and operational use is the brain and mind of all operations as it relates to every security service and program GEG provides. "The GEG command center is an invaluable asset to have in a single location and when situations require a mobile communications center can also be operational, working off the main center on demand," stated McGuire.