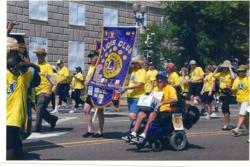 It is our goal to collect 500 pairs of eyeglasses at this year's parade," stated District Governor Don Beeson of Lion's District 22-C of Maryland
(PRWEB) May 21, 2013
LIONS Clubs from Maryland, Virginia, Delaware and the District of Columbia will march down Constitution Avenue in Washington, DC on May 27 at this year's National Memorial Day Parade. Local Lions Clubs Banners will denote the name of the club, which will also denote the community which they serve.
While marching in the parade, LIONS will collect used eyeglasses to recycle and distribute to those in need all over the world. There will also be a van located near 7th & Constitution Avenue, NW to collect eyeglasses.
"It is our goal to collect 500 pairs of eyeglasses at this year's parade," stated District Governor Don Beeson of Lion's District 22-C of Maryland. "Additionally we will be paying special tribute to and honoring all Veterans and particularly those heroes who made the supreme sacrifice by giving their lives for their country."
"Many of the Lions in the parade are veterans who have served their country honorably and are today still committed to serving their communities through volunteerism, service and education especially for sight and hearing issues," he continued. Lion veterans will be wearing red, white and blue striped sashes.
Lions will be carrying their club banners presenting a "Sea of Purple" along with a float on which non-marching Lions will ride. They are scheduled to be joined on the float by special guest, JC Hayward, local award winning WUSA9 news anchor, and Lions Clubs International Director Ted Reiver.
Please show your support for our veterans by cheering them on at this year's National Memorial Day parade and don't forget to recycle your used glasses!
LIONS Clubs International is the world's largest service club organization with more than 1.35 million members in approximately 46,000 clubs in more than 200 countries and geographical areas around the world. LIONS are a group of men and women who identify needs within the community and work together to fulfill those needs.
Since 1917, LIONS clubs have aided the blind and visually impaired, and made a strong commitment to community service and serving youth throughout the world. For more information about LIONS Clubs International, visit http://www.lionsclubs.org.