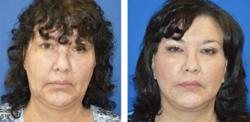 I think Dr. Azizzadeh brought a personal touch to my procedure.
Beverly Hills, CA (PRWEB) May 20, 2013
Imagine the feeling of excitement that comes with knowing there's a treatment available to diminish stubborn acne scars that have plagued your face for years. Now, try to imagine the feeling of being left with even worse facial scarring than you started with. For patient D. McCall, this series of events is all too real.
"Fourteen years ago, I visited a doctor who said he could remove my acne scars with a laser treatment, but instead, he completely messed up my face and did a very poor job. I'd been wanting to get this fixed for a long time, and I finally found Dr. Azizzadeh," said McCall.
McCall came to the CENTER for Advanced Facelift Surgery after finding Dr. Azizzadeh online. After an initial consultation, Dr. Azizzadeh recommended a facelift surgery to correct the issues concerning her most. Through a customized procedure, Dr. Azizzadeh was able to fix the patients excessive neck jowling with a facelift and necklift, reposition fat for the patient, trim away excess skin resulting in laxity, and perform an upper and lower blepharoplasty to achieve brighter and more youthful eyes. Now, months after the procedure, McCall is very pleased with the outcomes of her facialrejuvenation surgery.
"I think Dr. Azizzadeh brought a personal touch to my procedure," said McCall. "I'm extremely pleased with my results and I've had a lot of compliments. Dr. Azizzadeh did a wonderful job."
As Dr. Azizzadeh explains, the key to achieving the best facial rejuvenation results possible for apatient is to approach each individual with a new and custom approach, which is more than likely what her first surgeon did not do.
"To achieve the most natural and aesthetically appealing results, it's very important that I examine the unique details of the patients areas of concern and develop a treatment that addresses them. For each person, these concerns are different, so the procedures are tweaked. This is the only way to bring optimal and balanced facial rejuvenation results," said expert facelift surgeon Babak Azizzadeh, MD, FACS.
Dr. Babak Azizzadeh is a board certified facial plastic surgeon in Beverly Hills who has an extreme knowledge of the facial anatomy and cosmetic procedures of the face. He completed a fellowship infacial plastic & reconstructive surgery at the prestigious Harvard Medical School, and is the author of five bestselling books, including "Master Techniques in Facial Rejuvenation" and "Beverly Hills beauty Secrets." Dr. Azizzadeh is also the director of the USC Facial Plastic Fellowship Program, and the director of the world renowned Cedars-Sinai Advances in Multispecialty Aesthetic and Reconstructive Surgery Symposium.
For additional information regarding Dr. Azizzadeh and the various surgeries and procedures performed at the CENTER for Advanced Facelift Surgery in Beverly Hills, please contact the office by calling (310) 657-2203.