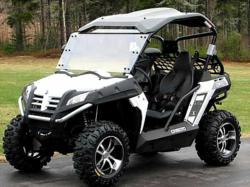 It's not fair to call it a clone. The Z6 has a distinctly different approach.
Grapevine, TX (PRWEB) May 20, 2013
The CF Moto Z6 is a sport-oriented side-by-side made to cut into the market created by the Polaris RZR. In fact, the Z6 is similar to the RZR in appearance, but it's not fair to call it a clone. The Z6 has a distinctly different approach with a little more utility mixed into the sport recipe. It's a different kind of machine, which is available with standard features like a winch and a towing capacity of 1500 pounds.
Once upon a time, the words "made in Japan" were used to belittle, dismiss and insult. That changed. Next, products from Taiwan and Korea climbed up the quality ladder as Asian manufacturing became more sophisticated. Now, mainland China is going through the same process. In fact, China's manufacturing capability has already come of age, and companies like Yamaha have full-time factories there, pumping out products and parts for the U.S. market.
What has held China back falls into the category of poor business practices. If a customer purchased from a little-known Chinese brand, they couldn't be sure there would be any consumer support after the fact. At the wholesale level, dealers often found they had no protected territory and the same product was often sold under many different names.
CF Moto has been fighting that stigma for years. The company's presence in the U.S. is relatively short, but it has a 30-year history of building motors for other companies—many in the marine industry. Now the U.S. arm of the company is headquartered near Minneapolis, Minnesota, and is working on building its reputation and its dealer network. This much can be said: there are no other companies selling the Z6 or any other CF Moto products under a different name. The company has worked with the EPA and California Air Resources Board to be fully compliant with U.S. law—that's a big investment and shows that CF Moto plans on being around tomorrow.
Come get check one today at Grapevine Kawasaki Polaris. For more info, please contact the friendly sales staff at Grapevine Kawasaki Polaris. (817) 481-2500.