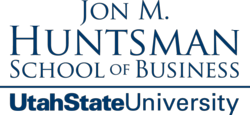 We want our students to look for innovative solutions and that's exactly what they did.
Logan, UT (PRWEB) May 20, 2013
Huntsman students and officers of the accounting club, Beta Alpha Psi, recently traveled to a Deloitte Best Practices competition and took first place in two areas that assessed their ability to be innovative and imaginative.
Beta Alpha Psi is an international honors society that seeks to bridge the gap between students and accounting professionals. Each year, Beta Alpha Psi (BAP) chapters located among universities nationwide have the opportunity to showcase projects they have developed during the year that help accounting students develop professional skills and serve the community. The contest drew teams from Brigham Young University, the University of Utah, the University of Denver and other schools from six other states in the Rocky Mountain Region.
This year, each club was expected to develop a project or practice in one or more of three areas or categories called "innovation," " imagination" and "inspiration." Each club presented to judges and other chapters at BAP regional meetings across the nation.
USU competed in two of the categories, imagination and innovation, and won first place in both areas, which will allow the Huntsman club to compete nationally in Anaheim, Calif., in summer 2013.
"This is rewarding to us because one of the four areas the Huntsman School of Business emphasizes is entrepreneurial thinking," said Bonnie Villarreal, BAP advisor and director of the Master's of Accounting program. "We want our students to look for innovative solutions and that's exactly what they did."
In the category of imagination, chapters were required to help students improve written communication skills in an imaginative way. To meet this challenge, the club held a workshop that helped students to not only write cover letters, but also to adapt their cover letters to different companies and job opportunities.
The innovation project involved developing soft skills that were not recruitment related. To help students learn to present technical knowledge to a non-technical audience, members of BAP held a workshop over two evenings to help local Boy Scouts earn a personal management merit badge. More than 90 Boy Scouts attended.
Accounting is commonly referred to as the language of business. The terminology can make it feel like a foreign language to non-accountants. Explaining money management at the Boy Scout level helped accounting students practice overcoming the language barrier while introducing the scouts to possible careers in the financial profession, said Villarreal.
-----
The Jon M. Huntsman School of Business at Utah State University seeks to inspire and equip students to become innovative, ethical leaders with refined analytical skills that will help them understand and succeed in the global marketplace. The Huntsman School of Business is one of eight colleges at USU, located in northern Utah. More information on the Jon M. Huntsman School of Business may be found on the web at http://www.huntsman.usu.edu.