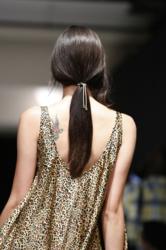 Pretty ponytails are a sign of warm weather and an active lifestyle
New York, NY (PRWEB) May 21, 2013
Pulleez ponytail holders today announced it will launch a Spring Sale through Memorial Day in celebration of ponytail season! The sale offers customers 25% off with their purchase of $20 or more on http://www.pulleez.com.
"Pretty ponytails are a sign of warm weather and an active life," said Pulleez creator Diana Wright. "There is no better way to kick off the coming summer than with a sale."
Pulleez were created to easily hold hair without leaving behind a crease. Launched at New York Fashion Week 2012, the sliding ponytail holders were an instant hit both on the runways and backstage. Models and designers asked if they could keep their Pulleez and wanted to purchase more for their friends. Many of the models wore the pieces on their wrists as bracelets.
Pulleez patented design has revolutionized the way women wear their hair in a ponytail; there is no need to wrap the elastic multiple times as with traditional elastics. Pulleez are sold at select retailers including Henri Bendel and the Fontainebleau Hotel in Miami.
Press inquiries to Pamela Miles, pamela(at)pulleez(dot)com.