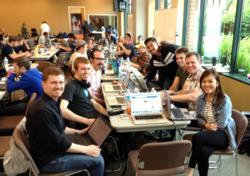 This is akin to TurboTax meets Microsoft Project
Seattle, WA (PRWEB) May 19, 2013
AngelHack organizes hackathon competitions, called AngelHacks, where web developers, designers and entrepreneurs take an idea, develop the project and pitch the results to mentors and investors, all in a 48 hour time period. The winners from each participating city are then selected to the AngelHack Accelerator program when they are mentored and able to present their startup at Global Demo Day. The goal of Global Demo Day is for the startups to meet with a room of over 300 investors, influencers, and the media.
Spectre makes the creation of documents such are business requirements (BRD) and technical specifications "ridiculously" easy. The goals of these documents are to assist the project management and implementation process. This is critical for companies that have organizational objectives while remaining solution independent. A BRD details the business solutions for a project that helps business people communicate their technical needs to the ones developing them and vice versa.
According to Villanova University, the problems with projects are 88% are past deadline, over budget or both. For every 100 starts, there are 94 restarts. The average cost overrun is 189% and the average time overrun is 222%. Myron, co-creator of Spectre states "There is a communication problem, because different roles in an organization communicate in different ways. Developers understand and digest information in a different way then that of executives and in a different way than that of project managers."
According to the Bureau of Labor Statistics, the job outlook for computer and information systems is projected to grow 18 percent by 2020, and a number of these jobs are going to come from the healthcare industry, which is behind in its use of information technology. This growth means the additional need of effective tools to help manage and move projects forward.
Not only does Spectre make this process easy, but also by using guided questions and project templates, it makes your documents collaborative, so that the right experts are able to contribute. In addition it will create living breathing documents that can evolve with your project, so that your requirements are not a tomb of good intentions. "You will answer project specific questions, and end up with a document that you can use to begin your project. This is akin to TurboTax meets Microsoft Project." says co-creator Aaron Bronow.
The Spectre team includes Aaron Bronow - information architect, Myron McMillin – creative director and Thu Quach - designer and student at University of Washington. It also includes Bernard Ablola - business development and marketing specialist, Brenton Webster - analyst, Grant Timmerman - developer, and John Kalberer, lead developer.
Final judging for Angel Hack Seattle will be selected on Sunday, May 19, 2013. For more information on Spectre or to be invited to their beta version visit http://www.spectreapp.com.