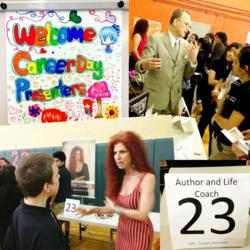 I am so impressed with the students, they were friendly smart and charming and so interested in health careers, said Dr. Korwin.
Red Bank, NJ (PRWEB) May 20, 2013
The fourth annual Career Day took place on May 17, 2013 at the West New York, New Jersey, Middle School and was presented to the entire eighth grade class. All the teachers and the administrative staff, headed by principal Israel Rodriguez, contributed to this exciting event in order to give the middle school students exposure to the abundant career choices that are available to them. The large group of thirty presenters in all fields gave speeches, informative talks and career information to the eight grade student body, which at first filled the modern auditorium and then the spacious gymnasium. The presenters included a Policeman, FBI agent, Fireman, Fashion Designer, Performing Artist, Health Care Workers, Writers, Service Dog Trainer, and many more.
The well-structured program gave students time to visit and ask questions of the presenters, and become more familiar with career choices that may have seemed remote in the past. A video presentation by students introduced the program, and several videos accompanied the Keynote speakers. The program included live performances by singer Marcos Leus, and dances by the students of L&L Dance Center.
Susan Korwin spoke with many interested students about her book writing and her life coaching experiences. Dr Korwin demonstrated with a short video how Cosmetic Dentistry can dramatically change lives, and also spoke about how dentistry can be a flexible and enjoyable profession.
Students asked about how to write books, train for professional careers, and what school entrance requirements might be. They asked about orthodontics, cavities, preventing gum disease and bonding and veneering teeth. They also inquired about feelings, both good and bad, how to cope with life situations, and how to keep from thinking negative thoughts.
Both Mrs. Korwin and Dr Korwin enjoyed being able to provide learning experiences for the students at a time when many are thinking about the roles they will play in their future careers.
About Dr. Robert Korwin:
Robert Korwin DMD, MICOI, MAGD is a renowned general dentist with 30 years of experience, teaching innovating, and practicing in Middletown NJ and Red Bank, NJ. Dr. Korwin practices Dental Cosmetics, Implantology, Orthodontics, Periodontal Surgery, Sedation, Prosthodontics, and many other dental fields for over three decades. He also received three patents in dentistry, and has helped manufacture dental products and launch dental software and training companies.
With extensive academic, clinical and didactic education, he is one of only a handful of dentists worldwide who have dual Mastership awards from The Academy of General Dentistry and The International College of Oral Implantologists. Dr. Korwin is a highest honors graduate of Progressive Orthodontic Seminars, which was awarded to only 2 of 4,000 students in 24 years. The practice provides a one stop dental experience and coordinates with patients to maximize their dental health, ensure their comfort and minimize financial concerns.
For more information, please visit http://www.drkorwin.com or call 732-219-8900.
About Susan Korwin:
Susan Korwin is a Certified Life Coach who was trained through the prestigious Life Coach Institute. She is the author of "Simple Strides Toward Positive Change: Lessons from Life Coaching", and is a contributing writer for Total Prestige Magazine, and Woman's Living Magazine. She has also appeared on numerous radio shows. Susan has done fashion modeling for Dolita Paris collection and Got Entertainment's vintage gown collection. Her popular Facebook page is visited by hundreds of fans every day. Susan was recently named of the "Top 20 Most Inspiring Individuals in New York City". While attending Hunter College majoring in Psychology, Susan worked in the fashion and media industry, including such well-known and respected companies as Bloomingdales, Revlon and Media Networks, Inc.
For more information, please visit http://www.susankorwin.net or call 732-219-8900.