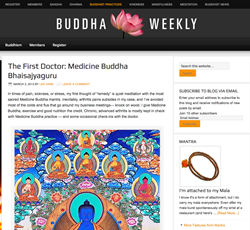 Medicine Buddha is a refuge for millions of Buddhists in times of illness or grief.
Toronto, Canada (PRWEB) May 18, 2013
Buddha Weekly featured the popular Medicine Buddha in the current issue of the web magazine. In the feature, Buddha Weekly highlighted why Tibetan doctors rely on Medicine Buddha for their healings and how many believe the practice with the Medicine Buddha also empowers one with powers to heal others. In China and Japan, Medicine Buddha is a refuge in times of illness. Around the world, literally millions call out the name or mantra of Bhaisajyaguru. It is even written in the sutras that if you speak the name of the Medicine Buddha in the ears of a dying animal or human they will be ensured good rebirth regardless of their past karma. No wonder the Medicine Buddha is so popular. Read more …
Other highlights from the current issue of Buddha Weekly:

Buddhist Water Bowl Offerings as an Antidote to Attachment
Basic foundation practices in Vajrayana Buddhism include making offerings and prostrations to the Buddhas, Gurus and Bodhisattvas. Yongchap practice, offering seven water bowls, is one of the most basic daily practices.
Offerings in general, are an antidote to greed and attachment, and can include charity, donations, and shrine offerings. Charity and selfless actions, a dedication to the welfare of others, help us release selfish attachment and is a bodhichitta practice. Offering to the Buddhas and Gurus first — usually in the morning before we eat — demonstrates our selfless dedication to our Bodhisattva vows and our teachers and deities.Read more…
Purify Karma and Accumulate Merit with Mandala
Modern life affords us so little time to practice accumulating of merit and purification—and so many excuses to postpone for today. Isn't it better to attend the next Vajrasattva Retreat or Empowerment than to take ten minutes a day for offerings? Who has time for daily offerings? It's all most of us can do to fit in ten minutes of meditation.
Mandala set offerings is a practice that combines the best of meditation, mantra, purification and offerings in one very powerful act, and many teachers, as early as the great Lama Tsong Khapa, advocate this critical practice as a daily essential. It purifies negative karma and accumulates merit not just for ourselves, but for all beings. Read the entire offering method in this article …
About Buddha Weekly
Thousands visit Buddha Weekly every week for Buddhist features and news covering all major Buddhist traditions and practices. Started in 2009, the non-sectarian news magazine covers :

Buddhist Practices
Sangha News from all traditions including: Hinayana, Mahayana, Vajrayana
Dharma Features and Discussions
Kindness Practices
Mindfulness
Meditation
Buddhist News
Buddha Weekly is a publication of Zines Online, a service of Persona Corp.