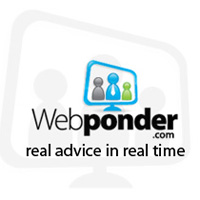 Webponder.com offers a convenient medium where people can connect online with a personal trainer
Miami, Florida (PRWEB) May 19, 2013
Online personal trainer advice is now available on Webponder.com, an online expert advice website where individuals go to get advice like free legal advice online or speak to an online doctor through live video chat. Online personal trainers on Webponder can provide advice and give answers to questions on a variety of health and fitness topics such as cardio workouts, weight training routines, and diet and nutrition.
Although Webponder has experts and professionals in a variety of fields, such as legal, online counseling, auto, and technology, the addition of the availability of online personal trainer advice to Webponder provides visitors a way to get credible and reliable advice from licensed personal trainers and health experts online and from the expert of their choice.
Traditionally, people looking for help losing weight or getting into better shape go to their local gym or fitness center and either try some routines out on their own, or hire a personal trainer for assistance. However, personal trainer assistance can be quite costly depending on the location, experience, and certification of the personal trainer.
However, Webponder.com offers a convenient medium where people can connect online with a personal trainer who can learn about their needs and goals, and develop a program for the individual to follow. They can also routinely check in with their trainer to discuss progress, tweak their programs, and develop future fitness goals.
Currently, individuals can seek fitness advice from almost a dozen different online personal trainers and two dozen other types of fitness professionals that range in varying specialties like dance, nutrition, and mixed martial arts.
Webponder was designed by Miami web design experts NetroStar Inc. Individuals seeking advice can register for free on Webponder.com, and fitness experts looking to register can either register online or can contact Steve Thompson, Managing Director at (305) 373-7775.