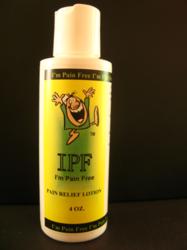 Mothers with active kids can keep IPF-Pain Relief Lotion™ handy as First-Aid In-A-Bottle through the summer months for fast relief of pain from insect bites and minor burns as well as pain from those inevitable bumps, bruises and muscle aches.
Kernersville NC (PRWEB) May 18, 2013
Products Plus International (PPI) is launching its Summer First-Aid In-A-Bottle initiative for IPF-Pain Relief Lotion™, targeting moms with active kids who need a handy remedy for pain from insect bites, minor burn and muscle ache from too much play or work.
"We usually target IPF-Pain Relief Lotion™ towards athletes with sore shoulders and back aches, or towards chronic sufferers of arthritis or 'rheumatism', says David Amos of PPI.
He continues:
"With so many testimonials coming in from chronic pain sufferers about how IPF-Pain Relief Lotion™ has relieved their persistent pain better than any other non-prescription product, even we forget that it is also the perfect First-Aid In-A-Bottle for families, and in a size that's handy for taking along on picnics or trips.
"Summertime always means increased outdoor activity for kids which can mean more insect bites from all those flying and crawling critters, and more minor burns, from blistering hot car bodies to lawn mower engines to backyard grills.
"For moms and dads, a little yard work can easily result in shoulder pain and other muscle ache, and there's no more effective or faster acting product on the market to relieving those type muscle pains than IPF-Pain Relief Lotion™.
"One word of caution, however: just as for oral aspirins, parents with kids under two years old and older kid who currently have a fever or chickenpox should refrain from applying IPF-Pain Relief Lotion™ to them, out of concern for a serious condition called Reyes syndrome.
"For moms with active kids, fast acting, effective IPF-Pain Relief Lotion™ should be a welcome addition to their first-aid arsenal and kept at-the-ready for relief of pain from insect bites, minor burns and every day aches from muscles and joint pains throughout the spring and summer seasons."
About:
Products Plus International (PPI), a division of LGM, is a distributor of all-natural, personal care products to include Simplee Natural Moisturizing Crème (BestMoisturizingCream.com), IPF-Pain Relief Lotion for muscle ache and arthritis pain relief, and Ultimate Desire for Men, the leading liquid, all-herbal ED formula. PPI markets all products in the USA through Amazon.com and publishes the website http://www.IPF-PainRelief.com.
Lexis Global Marketing LLC (LGM) works with clients to develop and implement their marketing programs and strategies, domestically and internationally, LexisGlobalMarketing.com
Contact: David Amos
Lexis Global Marketing LLC.
Tel 1-336-817-7376
Email: damos(at)lexisglobalmarketing.com
Address: 931-B South Main St., Suite 154
Kernersville NC USA 27284
About:
Lexis Global News (LGN) features current items of interest in business, technology, manufacturing, health and wellness, education, fashion, travel and life style. LexisGlobalNews.com/
Contact: Robert Allen
Lexis Global News
Tel 1-336-775-8617
Email: featurerseditor(at)lexisglobalnews.com
Address: 931-B South Main St., Suite 154
Kernersville NC USA 27284