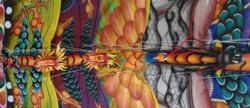 The Eat, Pray, Love tour is an incredibly popular girls' trip.
Las Vegas, Nevada (PRWEB) May 19, 2013
Spirit Quest Tours has arranged an Eat, Pray, Love Tour to Bali, with up to ten days of spiritual adventure that includes Balinese prayer ceremonies, yoga classes, and visits to sacred Hindu temples. The tour is June 22 – 28, with an optional extension until July 2.
According to Halle Eavelyn, co-founder of Spirit Quest Tours, the Eat, Pray, Love Tour is an incredibly popular "girls' trip." The company has been leading at least two trips to Bali per year for the last few years, and women traveling together or alone are the most common clients on the trips, Eavelyn says.
Fans of the book or movie Eat, Pray, Love are familiar with Elizabeth Gilbert's year-long quest to find herself through food, spiritual pursuits, and finally love, and this tour traces her proverbial footsteps while providing ample opportunity for shopping, spa treatments, and even sleeping in.
"Our trips provide the best of group travel without the hustle, bustle and hurry. People traveling alone can be perfectly comfortable booking with us, and since we begin our tour in Bali, our guests tend to come from many different walks of life and geographic areas. Our guests come together from all over the world to experience something amazing together," Eavelyn says.
The Spirit Quest Tours trips to Bali often attract people who are at a point in their life where they are experiencing dramatic change. Many are single or have been recently widowed. Others are simply looking for inspiration and want to add meaning to their lives. A spiritual tour to Bali, Eavelyn says, can change the way a person looks at life.
"We take guests off the beaten track," says Eavelyn. She and her partner, co-founder Greg Roach, have spent more than a decade traveling the globe and amassing a large network of friends, colleagues, spiritual guides and experts. In Bali, their connections with revered shaman and spiritual leaders provide the opportunity to learn local prayer customs, receive private readings, and participate in spiritual ceremonies. "We do things you can't just book with a concierge at your resort," Eavelyn says.
Guests on the trip to Bali will stay in private pool villas in the heart of Ubud. From there the group will visit exotic temples, spend time shopping in the marketplace, and have ample opportunities for daily yoga, meditation, world class dining, and spa treatments.
"There are plenty of adventurous spirits out there who travel the world and make all their own plans. Our guests tell us they appreciate not only having all the arrangements made for them, but they love the education and the local flavor we bring to our trips," Eavelyn says.
Booking for the Eat, Pray, Love Tour by Spirit Quest Tours is closing soon. The trip is from June 22 – 28, with an optional extension until July 2. Guests are responsible for transportation to Bali. For more information, visit http://www.spiritquesttours.com.
About Spirit Quest Tours
Spirit Quest Tours offers life-changing spiritual travel experiences to some of the most exotic locations in the world. Co-founders Halle Eavelyn and Greg Roach lead the curious and intrepid to locations as diverse as Africa, Spain, France, Mexico, Bali, and Egypt. The company also offers domestic travel experiences with a distinctive twist, including the September 2013 Esoteric America (Washington, D.C.), and personal tours, such as Spiritual L.A. (Los Angeles). For more information, call 877 406 5206 or visit http://www.spiritquesttours.com