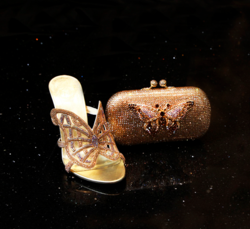 Looking for some seriously glamourous shoes and handbags this Prom season? NICOLI has the answer
Dubai, United Arab Emirates (PRWEB) May 20, 2013
With Prom season on the horizon, it's time to stock up on some seriously glamorous crystal embellished shoes and handbags. Having only recently launched their online store http://www.nicolishoes.com NICOLI is proud to not only offer fashionistas luxurious hand crafted, limited edition crystal embellished shoes and handbags, but a shopping experience unparalleled with any other!
Searching for the ultimate pair of Prom shoes and/or clutch has never been so easy. NICOLI, a Dubai-based brand, designed by Anna Kichenside, is the ultimate trend-setter when it comes to contemporary crystal embellished ladies shoes and handbags. With its core focus on original crystal shoes that stand out from the crowd, NICOLI's instincts for trends is shown through the use of vibrant crystals and luxurious fabrics and leathers that make a serious style statement.
NICOLI provides affordable luxury that caters to the modern-day woman and is sure to satisfy her never ending thirst for fashion. Think of NICOLI's creations as "Red Carpet Luxury" without the sky high price tags.
Beautifully designed bag shapes and carefully crafted heel heights form the foundation of the NICOLI crystal embellished shoe and handbag collections. Only the finest fabrics and materials are sourced and used, while many of NICOLI's innovative designs are generously embellished with twinkling diamanté crystals from Swarovski and Preciosa. It is this fabric quality and attention to detail which is second-to-none and is why NICOLI has built such a strong relationship with it's customers.
With already seven high-concept stores flourishing within the GCC region, NICOLI's growth has been forged by innovative crystal embellished shoes and handbags, and the strategic locations of their exclusive stores within popular shopping districts. It is this rock-solid foundation teamed with excellent partnerships which is driving the NICOLI brand successfully forward into the future.
Needless to say, NICOLI has made searching for that perfect pair of prom shoes, party high heels, evening shoes, clutches and handbags extremely easy and effortless to find with their recently launched online store http://www.nicolishoes.com. So, whether it's something elegant and comfortable to slip into, or something for that red carpet event, NICOLI has the ultimate collection of crystal embellished shoes and handbags that is sure to capture the moment.