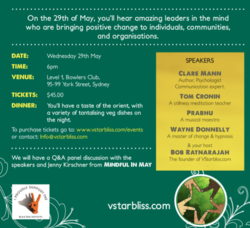 The V Stars team will stimulate your mind and pique your senses through inspiring talks, uplifting and soulful entertainmen and a social exchange - Bob Ratnarajah
Sydney, Australia (PRWEB) May 21, 2013
People are so busy these days, running from one thing to the next. Stress levels are through the roof and are contributing to a number of health problems. Studies show how people handle this stress could mean the difference between life and death. Speakers at the upcoming 'Awareness Within, Let the Change Begin' event on 29 May will share valuable, practical tools people can use to boost their physical and emotional wellbeing and influence the world around them for social good.
Organised by V Star Bliss, a hub of Sydney-based change makers, the gathering brings together an inspiring group of thought leaders from the wellness and socially conscious communities to discuss the role of the mind in creating powerful, positive change.
"We often repeat negative patterns, time and time again, and feel helpless," says Bob Ratnarajah, V Star Bliss founder. "We believe everything is happening to us, which makes us feel helpless and we give off that energy to those around us, thereby creating our external environment. When we take responsibility for installing a positive and compassionate mindset and truly connecting to ourselves, we start seeing the world differently."
The speakers include:
Clare Mann, psychologist and communications expert, who will provide strategies to make "difficult conversations a breeze". Author of numerous books and a regular guest on Channel 7's The Morning Show, Clare will discuss how communication is made easier when we change from the inside. She believes that the quality of our results equals the quality of our communication. As a passionate animal advocate she works closely with leaders, advocates and animal organisations to end factory farming in Australia.
Tom Cronin, once a corporate high flier, now a meditation teacher. Married with two children and having spent 25 years in finance as a broker, Tom successfully merges the worlds of family, finance and spirituality. Tom has been practicing Stillness Sessions for 17 years and wants to share this with others. He is the founder of Onegreatfind.com.
Wayne Donnelly, a former accountant turned hypnotist. After going through an experience that changed him forever, Wayne left the world of finance behind to become a professional hypnotist and NLP Master practitioner, working with the power of the mind and in making positive and powerful changes in people's lives. He demonstrates this through fun comedy hypnosis shows.
Jenny Kirschner, organiser of the Mindful in May meditation challenge that raises money for the most essential need – water – in developing nations.
Entertaining the audience throughout the evening is Prabhu, a musical maestro who will bring the sounds of East and West together, while connecting people to the musical melody of the Hang (hun), an instrument similar to a steel pan.
At the end of the evening, participants will know how to communicate their passion to convince others, How to deal with stress and how to get past the biggest block: our own limitations. "The V Stars team will stimulate your mind and pique your senses through inspiring talks, uplifting and soulful entertainment and a social exchange," said Ratnarajah.
V Star Bliss is a community of people who love to live a vibrant lifestyle through eating healthy, plant-based foods and are passionate about sustainability. The group was founded in 2009 by Bob Ratnarajah.