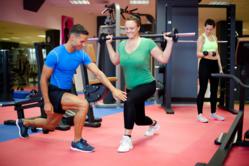 Gym staff are often stereotyped as judgmental, protein-shake drinking meat-heads and scanning super-athletic action shots online does nothing to change this image, nor does it make people feel confident
National (PRWEB) May 28, 2013
19% of respondents surveyed felt too insecure about their fitness level to go to the gym out of concern that they would be the only out-of-shape people in the room.. It's part of a phenomenon called gym intimidation, and it prevents many from pursuing their health goals. Joe Jones, personal trainer to Seva Call (SaveACall) founder Manpreet Singh, thinks action, communication, and teamwork are the keys to overcoming such fears. Here are Joe Jones's tips for overcoming the nervousness that prevents so many from getting active.
Take Action:
Mr. Jones considers thinking about getting active to be the least productive thing to do when someone's health and quality of life is on the line. "I see it time and time again. The longer they think about it, the more likely it is that their anxieties get the best of them". Rather than casually mention a desire to get into shape, Jones recommends immediately making plans to visit a gym. Lots of gyms offer a free one-day trial membership and may even throw in a free personal trainer consultation. Furthermore, while Jones thinks that analyzing consumer reviews for longer than a few minutes only makes the process more overwhelming, people should check for awful reviews and avoid such businesses. "The unfortunate truth is that a negative experience can exacerbate initial fears and sour someone on pursuing fitness for weeks, months, or even years", Jones explains.
Communicate with a Fitness Expert:
Based on Jones' experience, the right personal trainer and gym staff can be a source of support if given the chance to do so, and that support can begin with something as simple as a phone call. "Gym staff are often stereotyped as judgmental, protein-shake drinking meat-heads and scanning super-athletic action shots online does nothing to change this image, nor does it make people feel confident. Instead, just pick up the phone and talk to fitness experts like me so that we can do what we do best: encourage and inspire"
Partner Up:
There's empowerment in numbers, according to Joe. So, fitness conscious people should team up with a friend to take the fitness challenge together, hire a personal trainer to receive personal attention, or both- many personal trainers offer discount couple and group rates. Of course, while a familiar ally is comforting, there are clear advantages to working with a personal trainer as well.on. Not only are they experienced with, and educated on, all forms of exercise- enabling them to find a workout that will maximize weight loss while ensuring correct form and helping to prevent injury, they also have a unique ability to challenge and motivate clients.
For Help Getting Started:
Of course, one's own fear isn't the only thing standing between people and their fitness goals. Getting a live personal trainer or gym staff person on the line is often a challenge and waiting for a return phone call or even being turned away due to a scheduling conflict with a personal trainer can really dampen enthusiasm. As personal trainer to Seva Call founder Manpreet Singh and a Seva Call member-business, Joe Jones knows first-hand the difference it makes when callers talk to top-rated available fitness experts the moment they summon the courage to submit a request. "Connecting immediately helps people turn a moment of courage into real momentum because a top-rated personal trainer who is ready to help on their schedule is engaging them and building their confidence", Jones observed.
Using an algorithm that compares service pros based on proximity, availability, service needed, and even quality assurances indicators like online consumer reviews and social media interactions, Seva Call connects people to professionals with all the urgency and personalization that matters of health and quality-of-life deserve. And, while lots of gym trials end with months of follow-up calls, Seva Call keeps contact info private so that consumers only share their information if they are ready to help. So, while personal trainer is only one of 50 service categories, (like chiropractor, massage, or even handyman), in which consumers can get connected to the right pro by phone and in seconds, in this delicate matter, when obstacles to connecting to the right professional can lead to indefinite deferment of a matter critical to health, Jones finds the service to be especially useful.
Seva Call raised $1.3 million in Series-A funding last fall and has launched in 35 cities across the United States including Miami, Atlanta, Birmingham, Baltimore, Philadelphia, Columbus, and Boston. Connect on Facebook, Twitter, and Youtube.