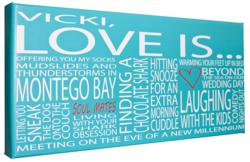 "if you search for a service provider's name and you can't find it online, that business is bound to go under, everyone is online and so should be your business." Ciaran Connolly, Co-Founder of ProfileTree
London, UK (PRWEB) May 22, 2013
It all started out with a simple thank-you card and spiraled into a world of amazingly stunning and personalized Artwork. The Owner of The Bea's Knees and Cat's Whiskers talks to ProfileTree about managing a successful art business and Typography Art.
About her motivation to starting a small business in Typography Art, Suzanne said "I thought there may be a market for my style of "Word Art" and began to create other designs for all sorts of occasions."
When ProfileTree asked about her day to day business management, she said "I run my business from home so I split my time between the business and my busy family life." Suzanne stresses on the importance of internet and social media, saying "It is an enormous market place and a brilliant tool for advertising… I also use other web advertising directories, review sites, links to other similar sites, blogs, free PR sites, social networking and bookmark sites"
Ciaran Connolly, Co Founder of Profile Tree stresses the role of social media for any type of business "if you search for a service provider's name and you can't find it online, that business is bound to go under, everyone is online and so should be your business."
About ProfileTree
ProfileTree is a free listing service where self employed and small business owner can create an online marketing profile. Profile Tree's main goal is to help small business owners reach new customers every day with the most innovative online marketing tips and techniques.
The website also enjoys sharing motivation photos for the self employed, helping with focus and drive. From professional wedding photographers to anyone offering a service - it can be listed online today.