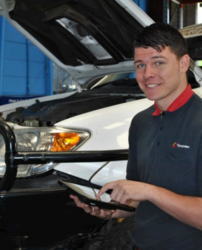 (PRWEB) May 27, 2013
A new Australian website is set to revolutionise nationally the car service industry by allowing customers to search, locate and obtain car service quotes for their vehicle in an easy online process.
Strictly Service has been developed over several years and engages both customer and mechanic alike. It works in two streams - one for the mechanic and the other for the customer.
Customers can locate mechanics in their location, obtain car service quotes, choose a price and book a time for their service, all in a free-to-join, simple interface with an extremely robust back end. Booking online does not void car manufacturing warranty and should car repairs be needed while the car is at the mechanics for servicing, that can be easily organised.
Strictly Service saves time for customers and provides them with flexibility on price, date, time and location as well as the ease of locating their vehicle type and matching mechanic service.
Darren Cooke, Chief Executive of Strictly Service said, "The car service industry has traditionally been hard for customers to locate and find the right Service Provider to suit their automotive services or road worthy needs. We recognised a need for efficiencies when obtaining auto service quotes. Strictly Service creates a transparency which is based on fairness and equality and stops time wastage for both customer and mechanic."
Most if not all vehicle owners could benefit using this service, it is also invaluable for businesses needing vehicle fleet services, where Strictly Service enables the car activity and history over the year to be printed out, which can be used for tax purposes.
Strictly Service also gives back valuable time to mechanics, as the online portal allows them to set their availability and pricing structure so they do not have to individually provide quotes. It allows them to focus on their work and streamlines their booking system and processing. Any mechanic is invited to join, from any location around Australia.
To book your service or to join as a mechanic log on to http://www.strictlyservice.com.au.