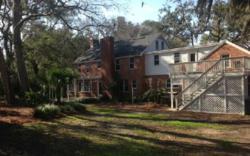 Smithsonian Institute: "Fernandina Beach is one of the best examples of small-town living in the U.S."
Fernandina Beach, FL (PRWEB) May 27, 2013
Plantation shutters and ceiling fans are all very well, but let's face it: there's no shortage of tropical-look homes in northeast Florida and throughout the state. For some buyers, light wood and rattan spell ho-hum and me-too. These prospective home buyers may prefer a traditional East Coast style. They may seek a warm red brick home with mature plantings and colonial touches. They may choose to live in town, close to schools and shopping. They will find exactly what they're looking for at 1814 Highland Drive, just one of the prestigious Fernandina Beach homes presented by Prudential Chaplin Williams Realty, acknowledged local leaders in Amelia Island real estate.
Here is a home that has been completely remodeled with four all-new bathrooms and fresh paint. Air-conditioning and electrical systems are new as well. The home comes with a dock permit and deep-water access. The huge grassy back yard is perfect for active sports and mellow relaxation, while the front lawn is shady and includes mature trees.
No less an authority than the Smithsonian Institution has called Fernandina Beach "one of the best examples of small-town living in the U.S." With a wealth of Victorian architecture, much of it linked to famous names from the past, the Fernandina Beach Historic District provides unique strolling and shopping opportunities. Victorian homes, spanning the mid- to late-nineteenth century, offer gingerbread curlicues and sprightly towers. At the saloon in the Palace Hotel, visitors can marvel at the forty-foot bar, embossed tin ceilings and tile floors in a mosaic pattern. Appropriately enough, the bar's lighting is said to have been designed by Adolphus Busch, the beer magnate and founder of Anheuser-Busch. Also in the Fernandina Beach Historic District, the oldest operating hotel in the state, the Florida House Inn, dates back to antebellum times and later housed Union soldiers during the Civil War. Rockefellers, Carnegies and Gen. Ulysses S. Grant have all stayed here.
1814 Highland Drive is within easy walking distance of these attractions and many more. Happily placed on Egan Creek between Fort Clinch State Park and the Amelia Island lighthouse, this gracious home is a perfect fit for historically minded home buyers who prefer substance to sensation and durability over faddish design. A home of this caliber calls for topflight representation, and Prudential Chaplin Williams Realty is and remains the gold standard in Amelia Island Real Estate and Fernandina Beach homes.
To schedule a private viewing of 1814 Highland Drive, call Prudential Chaplin Williams Broker/Associate, Kelly Mullin at 904-261-9311.
About Chaplin Williams
Prudential Chaplin Williams Realty is a full-service real estate brokerage serving all of North East Florida and headquartered on Amelia Island. Chaplin Williams Rentals is a full-service professional property management company also located on Amelia Island, Florida. Both companies were established by owners, Dee Chaplin and Hugh Williams. The reputation of Prudential Chaplin Williams Realty is unsurpassed in Amelia Island, and the exceptional real estate listings they offer, including Amelia Beach oceanfront condos and Fernandina Beach homes, are some of the most exciting on the market today.