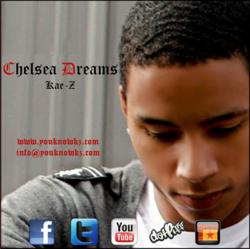 My aspiration is to work with a music production company where I will not only be able to be acknowledged within the industry, but become a valuable addition to the company who produces my music professionally
Boston, Massachusetts (PRWEB) May 21, 2013
Kae-Z, who's creative with his lyrics and currently engineers most of his own music, released a promotional CD to include his popular song, "Never Fall Off." The new song and YouTube video has generated remarkable traffic to his webpage, http://www.youknowkz.com.
Kae-Z has an unparalleled music style, engineers most of his own work and writes his own songs. His hope is to expand his distinctive style of music not only with his local fans, but nationwide. Kae-Z has been performing at numerous music clubs, has been featured by other local rappers and has opened music performance shows for known lyrical hip-hop rappers and artists. When preforming his diverse style of music arouses the fans and notably, his talent is greatly appreciated. His expectation is to spark the next generational wave of hip-hop music.
"My aspiration is to work with a music production company where I will not only be able to be acknowledged within the industry, but become a valuable addition to the company who produces my music professionally", said Kae-Z. "I have always been inspired by lyrical rappers in the industry like Nas, Jay-Z, Drake, Joe Buddens, SwaggaBoyLos and J.Cole."
"The Never Fall Off YouTube video was an interesting and exciting project for me, the initial setting was supposed to take place as a party with street scenes, but after many thoughts in the preparation process, we decided to do a boat scene and film it in Quincy, Massachusetts instead."
To listen or view Kae-Z's music, photos and videos, please feel free to visit his website at http://www.YouKnowKz.com, which includes links to related social media pages. Please feel free to leave your questions or comments as well as request a copy of the new CD, "Chelsea Dreams." Should you wish to see Kae-Z's new "Never Fall Off" video on YouTube, click here.