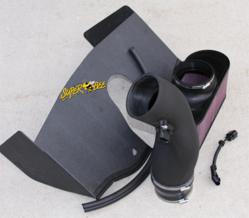 We have been partnered with Halltech Systems since the companies inception and plan on continuing to offer Halltech intakes into the future.
Marietta, GA (PRWEB) May 21, 2013
Southern Car Parts, a Corvette parts and accessories retailer, just sold their 1500th Halltech Corvette intake. The Halltech Corvette intake has been a favorite intake for Corvette C5 and C6 enthusiasts because of its ease of installation without any permanent modifications to the car and its incredible power gains. Halltech started making intakes systems for the Corvette C5 back in the 1990's and has continued their success with the Halltech Super Bee MF103 and MF107 for the Corvette C6, Z06, and Grand Sport. The Halltech Super Bee MF103 can be installed on most all Corvette C6's without any special tools and within 1 hour. The MF103 does not require any additional tuning and the Corvette will realize an immediate power boost of 10-12 HP upon installation. The Halltech MF107 intake is designed for customers who want that extra little boost of power and plan on tuning their Corvette. The Halltech MF107 intake is for the type of customer who is installing headers and other power boosting options and the MF103 is for the Corvette enthusiast that just wants to bolt on some extra horsepower without having to tune their car.
Southern Car Parts has been a premier dealer of Halltech products and other Corvette performance parts and accessories for more than seven years. Southern Car Parts developed a strong reputation in the performance automotive market and has expanded from only dealing with Corvette Parts and Accessories to also incorporating the Chevrolet Camaro, Dodge Challenger, Ford Mustang, Nissan 350Z and 370Z, and Nissan GT-R into their product line as well. In that time they've reached a wide and loyal consumer base who returns to them for their shopping needs as result of SCP's dedication to top-notch and expedient customer service and discounted pricing structure. Selling their 1500th Halltech Corvette Intake is a significant milestone in the company's success.