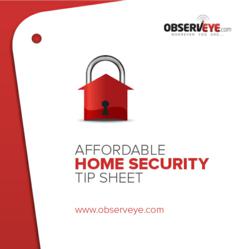 Burglaries can happen at any time to virtually anyone, so it's important to take measures to keep yourself and your belongings safe.
Monroe, NY (PRWEB) May 20, 2013
According to the Preliminary Semiannual FBI Crime Report for January through June 2012, burglary rates increased first time in three years within this period. Until now, burglary rates in this period have been on a steady decline. Following this news, ObservEye staff sprang into action to help people stay safe and feel protected by publishing its Affordable Home Security Tip Sheet on its blog. The tip sheet is completely free of charge and contains ten crucial tips for keeping homes and families safe without disturbing their nest egg.
The tip sheet is another way for ObservEye.com to follow through on its three core values: Keep a watchful eye, always be proactive and guard value above all. ObservEye was among the very first in the industry to bring the Foscam wireless IP camera to US consumers. A wireless IP, or Internet Protocol camera, sends and receives data over a local area network and/or the Internet. With such a signal, one can view the live video feed from anywhere in the world with Internet access. With the introduction of affordable options, such as the popular Foscam FI8910W model, virtually anyone can monitor their home and belongings from afar, allowing for increased security and peace of mind.
The founders of ObservEye.com have always kept a watchful eye on technological advances and took immediate action when Foscam introduced a high-quality home security camera at an extremely affordable price – something that the market was missing at the time. ObservEye's mission is to continue providing customers with the best quality and value the home security market has to offer.
The downloadable tip sheet offers simple yet effective tips that anyone can use to keep themselves, their families and their valuables safe where they live, regardless of whether they own or rent, or are at home or on vacation. Unlike many other tip sheets available on the web today, the Affordable Home Security Tip Sheet goes beyond common-sense tips, such as locking your windows and keeping spare keys out of reach, and instead offers tips that are still simple and affordable, but often overlooked by average person. For example, a common-sense approach would be to hire someone to shovel the driveway or rake the yard of a temporarily vacant home. ObservEye's tips take it one step further by suggesting that person also leave deliberate signs that someone has been on the property.
"Burglaries can happen at any time to virtually anyone, so it's important to take measures to keep yourself and your belongings safe," says ObservEye's Director of Marketing Joel Kraus. Joel continues, "This tip sheet will provide homeowners and renters with easy and inexpensive things they can do immediately to help prevent a home burglary or invasion. Consider it as an ounce of prevention that could save someone a lot of trouble."
About ObservEye:
ObservEye's three founders began with a vision to make IP cameras available to one and all, and are now seeing this vision come to life. Wireless IP cameras allow you to remotely monitor your residence, loved ones and place of work. ObservEye.com promises to hold itself to its core value to keep a watchful and an observant eye for the next best thing and bring the best of the market to its customers.
Contact
Joel Kraus
joel(at)observeye(dot)com