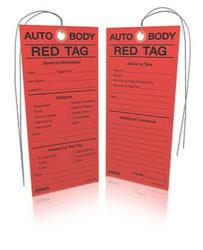 "We like the idea of red tags specific to auto body workshops. The information printed on the tag is exactly what we need to classify items in the sorting process of 5S."
Lake Oswego, OR (PRWEB) May 21, 2013
Red tagging is a method used in the sorting phase of 5S that involves placing tags on items to designate that an item should be removed from the work area. Creative Safety Supply, a leading supplier of safety and organization products, is now offering 5S Red Tags specifically for auto body shops. Continuous improvements and changes are often seen in auto body shops and red tags help to rid wastes that are no longer needed as new material and products come in.
Common auto body shop wastes include absorbents, aerosol cans, anti-freeze, brake fluids, used oil and oil filters, shop towels, gasoline, lead acid batteries, and car prep and body work wastes. These are just a small number of the many wastes found in auto body shops that can collect and cause disorganization and safety concerns. 5S red tags are a visual management tool that helps to clearly mark items that need to be moved from one area to another, creating better organization and work flow.
Each tag is individually pre-wired with 12 inch wire ties designed specifically for auto body shops. The 3 ¼ x 7 inch tags have adequate space to accommodate handwriting and are available in packs of 100. Using these tags will allow for the control and structure of the sort phase of 5S.
An auto body mechanic commented, "We like the idea of red tags specific to auto body workshops. The information printed on the tag is exactly what we need to classify items in the sorting process of 5S."
For more information about 5S Auto Body Red Tags, please visit http://www.creativesafetysupply.com/5s-Red-Tags/ or call toll-free (866)777-1360 to speak with a professional representative.