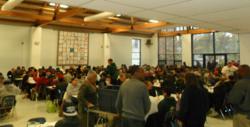 Paterson, New Jersey (PRWEB) May 20, 2013
With the struggling economy and increased number of homeless and working poor coming to Eva's soup kitchen each day, Eva's Village has implemented an Access Team Program as an approach to better care for the homeless and poor.
Each weekday a paraprofessional with experience in behavioral health services is providing case management in their kitchen program to clients who come in for the noon meal. "The Access Team will help us serve the community by assessing their needs and helping them access services quicker," stated Marie Reger, executive director of Eva's Village. "Many of those coming to our kitchen each day are not aware of the additional services we provide, yet alone other services in the Paterson area."
During the month of March the Access Team was able to engage thirty-seven (37) individuals. Of those individuals engaged, twenty-three (23) reported as homeless and the remaining fourteen (14) reported having a Passaic County address. These kitchen guests were referred to a variety of programs. Ten (10) were admitted to one of the shelters at Eva's Village. Twelve (12) were referred and scheduled for detoxification services of which 8 (67%) went to and were subsequently admitted. Eight (8) were referred to the Recovery Community Center at Eva's Village and have been utilizing the recovery support services there. Four (4) were referred to Father English Community Center, Paterson, a division of Catholic Family & Community Services and three (3) were referred to Eva's Healthcare Clinic.
Moving beyond homelessness can be very complicated because there is usually more than one reason an individual is homeless. "The case managers will be a constant presence in the kitchen," states Mike Santillo, administrative director at Eva' Village. "It will take time for many to trust the case managers. As time progresses we envision the number of clients being referred to increase."
Eva's Village (http://www.evasvillage.org) is a non-profit comprehensive social service organization with a mission to feed the hungry, shelter the homeless, treat the addicted and provide medical and dental care to the poor with respect for the human dignity of each individual. The kitchen serves a hot nutritious meal to more than 400 homeless and working poor men and women each day at noon; 365 days/year.
For more information about Eva's Village, call (973)-523-6220, go to http://www.evasvillage.org or write to: Donna Fico, Director of Marketing & Education, Eva's Village, 393 Main Street, Paterson, NJ, 07501.