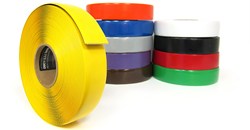 Floor marking tape is simple and quick to use in both installing and removing. We love it!
Lake Oswego, OR (PRWEB) May 22, 2013
A business that is concerned with cost savings, durability, and quality of floor marking products will be satisfied to learn there is a product that stacks up against painted floor markings. Floor-marking-tape.com is now offering an industrial strength floor marking tape that will withstand extreme high forklift, pallet carts, and pedestrian traffic. The cost of painting safety and hazard lines compared to the cost of floor tape will show business owners they are paying more out of their pocket for paint.
Findings based upon tests and actual reviews and comments from plant managers and maintenance personnel who have indicated that when they have used paint for line markings, the paint will start to disappear after only a few weeks. Another negative point is that the paint will also very quickly pick up dust, debris and wheel marks from forklifts making it very hard to remove or clean, without damaging the painted markings. Floor tape requires a simple peel-&-stick application and no applicator, paint brushes or equipment is required for installing the tape. The time it takes to apply the tape is quick and there is no messy, smelly clean up unlike paint.
The painted floor technique requires one to purchase a large amount of paint and all the equipment needed to be able to apply the paint. A large inventory of paint costs a company money but is required to have on hand as painted lines and markings get dirty, damaged or starts to disappear as it wears off. Floor marking tape can be simply re-ordered if it becomes damaged and needs to be replaced. It will cost a facility lower production time and money because the area that is being painted will have to be shut down while the paint is applied, while it goes through its dry and cure time, and for the paint fumes to dissipate.
A plant manager commented, "Floor marking tape is simple and quick to use in both installing and removing. We love it!"
For more information about Industrial Strength Floor Tape, please visit http://www.floor-marking-tape.com/ or call toll free (866)777-1360 to speak with a professional representative.