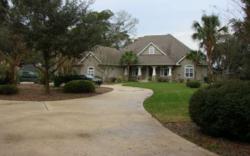 Lovers of tradition will swoon over its Craftsman-style pillars and front porch.
Fernandina Beach, Florida (PRWEB) May 29, 2013
What do Amelia Island real estate buyers look for in Fernandina Beach homes? Like buyers everywhere, they seek the largest house on the largest lot at the most reasonable price. Like other buyers in the area, they know that a home represented by Prudential Chaplin Williams Realty means a high-end, well-maintained property and realtors who care about the quality of life in their community. At 95011 Sawgrass Cove Trail in Fernandina Beach, delighted buyers will find every item on their checklist at a price that still lags far behind coastal homes elsewhere.
As they approach this house, lovers of tradition will swoon over its Craftsman-style pillars and front porch. Interiors feature wood wainscoting, granite counter tops in the kitchen and an updated master bath with step-up tub and warm bisque marble. The kitchen includes a center island and cream-colored cabinetry, with informal as well as formal dining spaces and a generous farmhouse sink. There is a gas fireplace for those brisk nights, and a built-in entertainment center in the welcoming den is sure to be a hub of family life. Also on the first floor, the master bedroom reveals an electric fireplace and more built-ins in the sunny sitting nook.
With almost 4000 square feet on a one-acre lot, this home is impressive upstairs as well. Windows flood the bedrooms with light, and built-in storage makes for a clutter-free environment. Ceiling fans improve air circulation while thermo-paned windows help control energy costs. Water views are everywhere, and there is a dock on the river at the end of the green lawn.
On a house with this much land, horses are a natural addition and they are allowed. Keeping the landscape lush is never a problem as this house has its own well. A bubbling spa will dispel daily stress and fruit from the backyard trees is on hand almost year-round. Because 95011 Sawgrass Cove Trail is not part of a planned development, there are no association fees and no nitpicking regulations: this home truly is its owner's castle. As if all that weren't enough, the property comes with a home warranty, giving buyers additional peace of mind.
Fernandina Beach homes, and Amelia Island real estate in general, are generating excitement far beyond Northeast Florida. Ask the cognoscenti, and they'll tell you that the Prudential Chaplin Williams name is essentially a guarantee of uncompromising personal service and extensive professional expertise. Jane Collins, Sales Associate, Realtor will be happy to show buyers around 95011 Sawgrass Cove Trail or any other of their exemplary properties for sale. Call her today at 904-753-2211.
About Chaplin Williams
Prudential Chaplin Williams Realty is a full-service real estate brokerage serving all of North East Florida and headquartered on Amelia Island. Chaplin Williams Rentals is a full-service professional property management company also located on Amelia Island, Florida. Both companies were established by owners, Dee Chaplin and Hugh Williams. The reputation of Prudential Chaplin Williams Realty is unsurpassed in Amelia Island, and the exceptional real estate listings they offer, including Amelia Beach oceanfront condos and Fernandina Beach homes, are some of the most exciting on the market today.