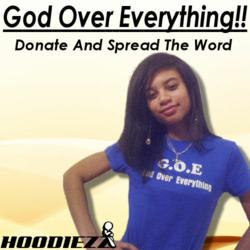 These products demand attention, and they might just be the message someone needs to hear to help them get through a difficult time in their lives.
Stoughton, MA (PRWEB) May 23, 2013
In American society; everything with a negative connotation is accepted. Radio stations are filled with songs about sex, drugs, and violence. Mainstream movies have the same subject matters, and news medias constantly fill their air time with violence and tragedies. Why embrace the negative so much, and neglect to focus on the goodness of God?
Hoodiezz.com is running their "G.O.E. (God Over Everything)" Fundraiser not to just combat the negative that is seen in society, but to return hope to the masses. To remind people that whether they are seeing good or bad times, they need to keep going and persevering, because God is over everything.
This G.O.E. Fundraiser is being held on Hoodiezz.com's website from Thursday May 23rd to Sunday June 30th. Contributors can donate specified amounts such as $25, $50, $100, $1,000, etc., and per each amount the contributor will receive a gift package filled with G.O.E. and J.O.E. t-shirts, baseball hats, backpacks, and phone covers. Gift package sizes will vary among donation size, and contributors will be able to keep or distribute products how they see fit, but Hoodiezz.com asks that products are distributed to the public free of charge. Everyone who is interested in sharing this message of G.O.E. (God Over Everything) is encouraged to donate, but Hoodiezz.com is hoping that large influential Christian organizations will donate and give these products to their congregations, especially the youths and the poor.
Hoodiezz.com is a small business and does not have the means to give these products away for free, nor do they have the means to run a large event to raise money towards the distribution of these products. So they need others to help bear the load with them and get the message that God is Over Everything to society. 75% of each donation goes into the gift package the contributor will receive. So if a larger organization makes a $10,000 dollar donation they will receive about 820 G.O.E. and J.O.E. products to distribute amongst their congregation. The other 25% of the donations will go to settling operational debts Hoodiezz.com has incurred, and to investing in the future of Hoodiezz.com.
Co-owner Chris Lamar went on record to say "I believe that this message was given to me by the Holy Spirit and needs to be shared freely. Last winter I was at the lowest point in my life. I was driving home from work crying wanting to just give up, and the thought came to me to keep going, that God is Over Everything. And it just made sense; that no matter what is ahead, just G.O.E. (Go) through it and remember that God is Over Everything, and that it will be okay. After I had developed the first shirt, my father also proposed the idea of J.O.E. (Jesus Over Everything), because when a person has Jesus they aren't your average Joe. Hoodiezz.com has not copy written or trademarked any of these sayings, because this message is not for sale. Everyone is encouraged to receive the message that God is Over Everything, and to be able to put their own creative spin on it as long as it glorifies God. Everywhere I go my Jesus Over Everything hoodie grabs attention. Whether it's when I walk into Dunkin Donuts and it puts a smile on the face of the guy behind the counter, or if it's at the school I coach at and 6th graders are telling me that they like my hoodie. These products demand attention, and they might just be the message someone needs to hear to help them get through a difficult time in their lives."
Donations are now being accepted at Hoodiezz.com. Visit them and donate today. Be a part of spreading this message that shows that God is awesome, and that He is Over Everything.