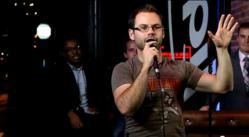 Cleveland, OH (PRWEB) May 22, 2013
On May 22, 2013, Laugh Staff consultant Josh Womack will once again be taking some time away from writing best man speeches to begin a five day hosting stint at Cleveland's premier comedy club, Hilarities.
Womack was most recently at hosting at Hilarities back in March, but will be taking the stage once again for headliner Colin Kane. And much like Laugh Staff, Kane has been building his fan base through Facebook and Twitter.
This is not the first time Womack and Kane have worked together, though. The two have worked together at smaller venues in the Cleveland area like the Big Dog Theater in Cleveland Heights and Reddstone in Gordon Square. However, this will be Kane's first time performing at Hilarities.
"Working with Colin at Hilarities will be a blast," said Womack. "Playing smaller rooms with him the past couple years was a lot of fun, but can't wait to do this on a bigger stage. He's the hungriest headliner I've met so far, eager to draw big crowds and do any and everything to promote the shows."
Womack has certainly been keeping busy these days. While he will be taking time away from Laugh Staff to host at Hilarities from Wednesday, May 22 through Sunday, May 26, he has been logging many hours for Laugh Staff. He has been writing and editing best man speeches and even a speech for a father of the bride. Most recently, Womack was seen on WKYC's Live on Lakeside discussing what makes a successful best man speech (or maid of honor speech) with hosts Hollie Strano and Michael Cardamone.
So many comedians bring their own openers and feature acts, which makes hosting a more coveted position. Laugh Staff is thrilled one of their own is being invited to host at a premier comedy club more frequently.
For more information about Laugh Staff, Inc. visit http://www.laughstaff.com, call 740-706-6690 or email info(at)laughstaff(dot)com.
About Laugh Staff, Inc:
Laugh Staff, Inc. was founded in 2012 by a team of comedians and writers in Cleveland, Ohio. Laugh Staff helps their clients with best man speeches as well as providing best man speech examples on their blog. They assist best men and maids of honor in speech-editing, speech writing, and provide training on speech delivery. Recognizing the importance of the big day, Laugh Staff's professional comedians work with best men and maids of honor to ensure they make a lasting impression.