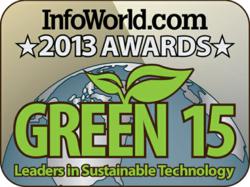 We can all breathe easier knowing that our FleetMind-equipped vehicles are helping us reduce vehicle mileage and fuel consumption, as well as overall greenhouse gas emissions.
Montreal, Canada and Rutland, Vermont (PRWEB) May 20, 2013
FleetMind Solutions announced today that its customer, Casella Waste Systems, Inc. has won IDG's InfoWorld Green 15 Award for the deployment of its fleet technologies to improve efficiencies and reduce CO2 emissions. The InfoWorld Green 15 awards recognize the most innovative IT initiatives from companies around the world who have embraced green technology to drive projects aimed at boosting efficiencies, trimming waste and reducing or eliminating the use of harmful substances.
"Being named to the InfoWorld Green 15 is a tremendous honor and very much in keeping with our overall business mission," said Gary R. Simmons, Vice-President of Fleet Management at Casella. "We can all breathe easier knowing that our FleetMind-equipped vehicles are helping us reduce vehicle mileage and fuel consumption, as well as overall greenhouse gas emissions."
Casella provides solid waste, recycling and resource management services in seven Northeastern U.S. states, including seven recycling facilities, 12 disposals facilities, 31 collection operations and 29 transfer stations. Casella makes it a business strategy to create sustainable value beyond the traditional disposal model.
"Once again, organizations represented in this year's crop of Green 15 winners have raised the green bar, finding innovative ways to leverage sustainable IT practices to reduce costly waste and boost efficiency while improving their overall environmental standing," said Ted Samson, Senior Analyst at InfoWorld.
Casella deployed a fleet-management solution aimed at helping reduce fuel waste and associated exhaust emissions. The system, developed by FleetMind, includes tools for onboard computing, fleet mapping, reporting and analysis, driver direction, automated service verification, and wireless communications. FleetMind's solution has helped Casella make more efficient use of its fleet by optimizing routes to reduce time spent on the road, cutting fuel waste by monitoring idling, and identifying inefficient driving patterns and vehicle maintenance issues for immediate resolution.
Visit FleetMind at Waste Expo 2013, May 21-23, in Booth #2347.
About InfoWorld
InfoWorld helps IT decision makers choose the right technology, within the context of a cohesive strategy for business impact at their organizations. InfoWorld identifies and promotes emerging technology segments that add unique value for the organizations that implement them, as well as the vendors that provide those solutions. Using an integrated communications approach including online, events, research, and a continued investment in the independent InfoWorld Test Center, InfoWorld analysts and editors provide hands-on analysis and evaluation, as well as expert commentary on issues surrounding emerging technologies and products. Visit InfoWorld at http://www.infoworld.com.
About International Data Group
International Data Group (IDG) is the world's leading technology media, events, and research company. IDG's online network includes more than 450 websites spanning business technology, consumer technology, digital entertainment and video games worldwide. IDG also publishes more than 300 magazines and newspapers in 85 countries. IDG's media brands include CIO, CSO, Computerworld, GamePro, InfoWorld, Macworld, Network World, and PC World. IDG's lead-generation service, IDG Connect, matches technology companies with an audience of engaged, high-quality IT professionals, influencers, and decision makers. IDG is a leading producer of more than 750 technology-related events including Macworld Conference & Expo, LinuxWorld Conference & Expo, Entertainment for All Expo (E for All), DEMO, Storage Networking World, and IDC Directions. IDC, a subsidiary of IDG, is the premier global provider of market intelligence, advisory services, and events. More than 900 IDC analysts in more than 90 countries provide global, regional, and local expertise on technology and industry opportunities and trends. Additional information about IDG, a privately held company, is available at http://www.idg.com.
About FleetMind Solutions, Inc.
FleetMind Solutions, Inc. is the award-winning technology leader for fleet management solutions. FleetMind's technology is derived from over 10 years and millions of dollars invested in developing the industry's best and most advanced fleet solutions specifically designed for waste and recycling environments. FleetMind solutions have been successfully installed in thousands of vehicles across North America. Our products have allowed the industry's largest waste and recycling fleets to link their drivers and vehicles to business operations in real-time to ensure improved productivity, safety, sustainability, profitability and customer service. For more information, visit us at http://www.FleetMind.com.
About Casella Waste Systems, Inc.
Casella Waste Systems, Inc., headquartered in Rutland, Vermont, provides solid waste management services consisting of collection, transfer, disposal, and recycling services in the northeastern United States. For further information, investors contact Ned Coletta, chief financial officer at (802) 772-2239, media contact Joseph Fusco, vice president at (802) 772-2247, or visit the company's website at http://www.casella.com.