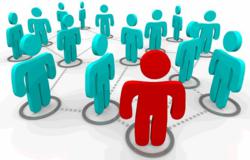 This custom tool makes managing hosted services within larger businesses simple and efficient
Chicago, IL (PRWEB) May 19, 2013
Hosting provider and custom website development firm ITX Design recently launched an active directory synchronization tool that automatically synchronizes changes in client databases to ITX Design's hosted active directory.
According to ITX Design's Friday announcement from CEO Doug Davis, "This cutting-edge tool provides customers with a single point for creating and managing user accounts. It also highlights the end user experience by synchronizing local domain passwords with ITX Design's domain for a truly unified sign-in experience. This custom tool makes managing hosted services within larger businesses simple and efficient."
"By simplifying the process to create and instantly provision new accounts, manage and modify existing accounts, and getting rid of multiple passwords, we've managed to make hosted services even more appealing to small and large business owners. Now, there's no reason not to consider a switch to ITX Design."
The new convenient tool is installed in a customer's network and transmits encrypted updates over a secure Internet connection to the ITX Design network. Including creating, deleting, or changing users, contacts, distribution lists, or passwords, all synchronization is one-way from the customer to the ITX Design platform.
Additional features of ITX Design's newest addition include selective attribute synchronization, which allow customers limit the attributes to be synchronized, as well as the synchronization of address book contacts from the local Directory to the hosted address book, and all data synchronization can be configured by the administrator from ITX Design control panel.
ITX Design has over a decade of experience in offering customers the best web hosting services and support. All of their web hosting plans support WordPress and include a one click WordPress installer in addition to offering three (3) separate custom website development and eCommerce business solutions.
According to many customer's reviews about ITX Design, they provide extremely reliable servers and are one of the best service providers for fast and dedicated servers. ITX Design reviews suggest that customers can rely on them for quality and they know what will be best suitable option for their clients' websites.
ITX Design is also an established and reputable web hosting and Domain Registration provider. They provide dedicated servers, shared web hosting and domain registration for small businesses including server hosting, WordPress Hosting, reseller hosting and much more.
ITX Design has established a foothold within the web hosting market in order to provide their clients with the ultimate hosting or custom design solutions. They specialize in expandable hosting that is capable of meeting the hosting requirements of small websites as well as large scale corporate networks with server clusters. To learn more, visit http://itxdesign.com/ or call 24/7 Technical Support at 1-866-577-1442