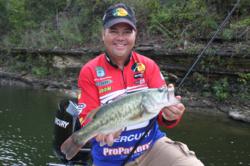 My worst moment would be losing a 5-pounder during the Harris Chain event, costing me the victory.
Yankton, South Dakota (PRWEB) May 21, 2013
World-class professional angler Brian Snowden offered his time and expertise on a Saturday morning for an exclusive email interview with ProPatterns. Born and raised in California and now hailing from Reeds Springs, Missouri, Snowden serves as a fishing guide in the Table Rock area when not competing professionally on the BASS and PAA tours. Snowden holds a Bachelor of Science from Missouri State University in Fisheries Management. Among his tournament successes, Snowden is a 5-time Bassmaster Classic Qualifier, 3rd-place Bassmaster Classic 2009 winner, and Champion at the PAA Series, Lake Toho 2009. Snowden holds 12 top-ten Elite series finishes and has accumulated over one million dollars in earnings in his storied career.
In an exclusive interview with ProPatterns.com, Snowden offers practical advice to the recreational fisherman, as well as memories of his experiences on the water.
Fishing outfitters offer myriad choices in lures for the angler, but Snowden suggests that before hitting the water: "Don't get caught up in lure colors. Keep the colors basic and try to find the location where the bass are."
Finding the fish can be a challenge and tracking their patterns can be more daunting. When asked what his biggest mistake on the water was, Snowden tells ProPatterns: "There are so many of these, I don't know which one to pick. When I was leading the Harris Chain by ten pounds, and we had a massive cold front, I was unwilling to leave an area after conditions had changed drastically and the water temperature had dropped ten degrees. I learned that I need to be flexible and not fish in the past."
When asked about his worst experience on the water, Snowden tells ProPatterns that, "My worst moment would be losing a 5-pounder during the Harris Chain event, costing me the victory. This loss compounded with the decision to not change on the last day was a life-changing experience."
His best moment, however, was at the dock at the Toyota Texas Bass Classic on Lake Conroe, when he caught a 150,000 dollar fish and won the event.
The philosophy and mission of ProPatterns is to offer the best tips from the pros through its online Exposed video series featuring the best anglers in the world and its group-sourcing journal function, which allows anglers to track their catches and review the catches of other members.
The Harris Chain and Lake Conroe results were a high and low point of Snowden's fishing career. But, the best anglers learn from their mistakes and figure out how to remember those experiences and recall those choices. Snowden added: "In working with ProPattern's to create the best tools available for anglers it was easy to offer advice on what was needed to make my own ventures more productive. The Harris Chain event brought about a revelation in my thinking that can be documented in a journal and recalled on demand, a choice tournament anglers like myself must make every time we compete. Reading articles and digging into a personal memory bank from experiences is important but tournament anglers have to make quick decisions and those luxuries are not always available in the moment."
Finally, Snowden offers this to the amateur angler, "If you have determination and patience, you will be a great a fisherman! If you aspire to be better use all of the resources you have available, and be prepared for the conditions you face and willing to change your plan."
About ProPatterns, Inc. and Exposed:
ProPatterns, Inc. is a leader of angling education offering a variety of fishing tips and membership services online. Information is gathered from various sources and shared with members in a variety of ways. The Exposed video series, for example, gains all of its integrity from an alignment with the biggest names in the bass fishing industry including professionals who fish with BASS, FLW, and PAA. Cooperation from the anglers and their willingness to share is the catalyst for the growth of this series.
The company is based in Yankton, South Dakota, home of CEO and President Chad Ekroth. Ekroth's background includes a computer science degree and business experience involving several successful startups. When not tending to business, Ekroth spends his time tournament fishing and engaging in other industry relations including a long time commitment to B.A.S.S. Nation as a 25 year member and competitor.
In addition to Exposed the company provides online fishing journals, payday opportunities, sponsorship opportunities, and a variety of other services including the new enhanced Fantasy Fishing competition which provides all members a chance to win prizes.
Visit http://www.ProPatterns.com today to receive all of the latest information about the Exposed videos series, to participate in Fantasy Fishing, and to learn more about all of the member services available.