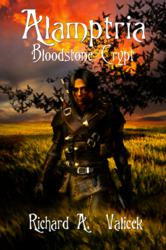 The Undead Have Risen!
Toronto, Ontario (PRWEB) May 20, 2013
Double Dragon Publishing has just released Alamptria 1: Bloodstone Crypt with a revised format and new title. Based on Bram Stoker's Dracula, the novel takes readers through suspenseful twists, fast-paced action, and dynamic characters. Originally published in 2011 under the title Alamptria: Red Moon Rising, it was hailed by readers as innovative and singular, attributes that won the book the Buzillions Reviewers choice award.
When the peace-loving kingdom of Elysium in the land of Alamptria finds itself under attack by evil undead forces, the royal knights, three brothers who possess magical claymores, set out to defend their subjects and all of humankind. Along with their army and some interesting creatures gathered along the way, the Seatons march toward Mount Drone, destined for terrible battle that could lead either to triumph-- or defeat. The stakes are raised when Melina, betrothed of the youngest Seaton, is abducted by Tyrus Clore, head of the vampire cult. She must be rescued before she is forcibly married to Tyrus, and the vampire minions unleash their fury on the human race.
The metaphor of the novel is never more applicable than today, and in style and innovation, it pays homage to the masters of 20th and 21st century fantasy fiction, J.K. Rowling and J.R.R. Tolkien, yet the book has clear ties to the literary tradition of the vampire. "I went back to the original tale and built on its complexity and history to give readers something that's entirely new," says Valicek.
A graduate of George Brown College in Liberal Studies, with a diploma in Graphic Design, Richard A. Valicek lives in Toronto, Canada.
Alamptria 1: Bloodstone Crypt is published by Double Dragon Publishing. It is available at retailers nation-wide as a trade paperback and online for the Nook, Ibook, Epub and Kindle.
Further information about Alamptria 1: Bloodstone Crypt can be found at http://www.alamptria.com or by calling 416-570-5655.