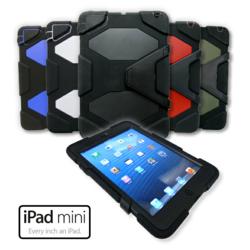 iGear's Tough Case is built like a tank and offers hands down the best iPhone 5 protection in the industry.... I threw my own iPhone 5 in the Tough Case out of a 2nd floor window to prove it.

Chicago, IL (PRWEB) May 21, 2013
iGearUnlimited.com offers a full line of accessories for Apple's iPhone and iPad. The company just announced a sale of many close-out items. These are first-quality products offered at a deep discount to clear inventory.
iGear's Tough Case for iPhone 4 and iPhone 5 have been extremely popular with customers looking for the ultimate protection. In a YouTube video, an iPhone inside of a Tough Case was thrown out of a 2nd floor window, free-falling 32 feet to a concrete drive way. The test proved to be a huge success, as the phone escaped the drop without a scratch, while recording video the whole time. Normally priced at $39.99, it's on sale at only $19.99 each.
The iPad Tough Case offers the same level of protection for iPad 2/3/4 and iPad Mini as well. It features multi-layer protection using a combination of (1) an outer soft rubber shell, (2) an inner polycarbonate hard case, and (3) a front screen protector lens. This case is supremely shock absorbent! Since all buttons and ports are tightly sealed, the Tough Case provides rain and splash protection, while giving the user full access at the same time. Regularly priced at $79.99, it's on sale for only $39.99.
Other products on sale include the Diamond Bling Case for iPhone 5, a clear TPU case for iPhone 4, a black TPU case for iPhone 5 with built-in kick-stand, and a leather portfolio for the iPad Mini. The sale is limited to the company's inventory, on a first-come-first-serve basis.
About iGearUnlimited.com
iGearUnlimited.com is powered by Sunrise Digital, an Inc. 5000 company established in 1988 and employs the most advanced equipment and technology, such as G7-certified HP Indigo and UV flatbed presses, and digital die-cutting, to create best-in-class products. A privately-owned enterprise, the company is based in Chicago and sells products worldwide.