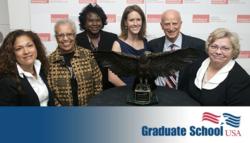 Washington, DC (PRWEB) May 20, 2013
Graduate School USA presented its W. Edwards Deming Award to the Housing and Urban Development (HUD) Office of Field Policy and Management (FPM) on May 13, 2013 at the Excellence in Government (EIG) Conference. Connie Newman, former Assistant Secretary of State for African Affairs and a member of the Graduate School USA School Board of Directors, made the award presentation to FPM representative Patricia Hoban-Moore.
FPM was selected from among the nominees for a training and orientation program (TOP) implemented to reinforce the use of cloud computing for tracking and reporting project performance in order to improve its ongoing reporting to Congress and other key constituents.
"The Office of Field Policy and Management was recognized this year for implementing an important training program that quickly delivered results," said Dr. Jerry Ice, CEO and President of Graduate School USA. "The Deming Award celebrates innovative and strategic workforce training initiatives and we commend the HUD team on winning this year's award."
The program improved the ability of field-level staff members to track their projects, demonstrate alignment to HUD strategic goals, and report on their progress. The complexity of the organizational mission and the geographic distribution of the target populations presented unique challenges, with hundreds of employees in 80 field offices throughout the United States and oversight by 10 regional headquarters. The reporting application is used on a daily basis by FPM staff in the field and at HUD headquarters in Washington, DC.
The cloud-based application is used by 100 percent of FPM staff, with 25-30 percent logging in daily to perform project-related work. Numerous field recommendations have resulted in improved reporting to Congress and other critical information recipients.
"We're honored to be this year's Deming award winner. Being recognized in this way confirms our training approach and allows us to set a good example within our agency," said Pat Hoban-Moore, Director, Office of Field Policy and Management. "This cloud-based system helps our staff in Field Policy and Management align their daily work to the agency's strategic plan and understand how they directly impact HUD's mission."
In addition to presenting the 2013 W. Edwards Deming award at EIG, Graduate School USA hosted a Spotlight Session for attendees entitled "Breakthrough Training – How Three Agencies Did It," that was moderated by Francis Rose of WTOP's Federal News Radio. Panelists, representing past winners of the Award, were Leslie Taylor, Director, Flight Test Engineering, Experimentation and Test Department Naval Air Systems Command; Patricia Jones, Executive Director of the Office of Appellate Operations, Social Security Administration; and Tim Harvey, Chief, Park Facility Management Division National Park Service.
Graduate School USA presents the W. Edwards Deming Award annually to a federal government organization in recognition of an impressive workforce development and training initiative that has measurably improved the organization's performance and impacted its mission.
The Award's namesake is Dr. W. Edwards Deming, who taught at Graduate School USA for 20 years and is considered the father of Total Quality Management. Deming's work incorporated the idea that employees and managers at all levels of private industry and government have a responsibility to cooperate to improve products and services.
To learn more about Graduate School USA's W. Edwards Deming Training Award, visit graduateschool.edu/deming.
About Graduate School USA
Dedicated to providing relevant learning opportunities in public service, Graduate School USA has served the D.C. metro community since 1921. An independent, nonprofit accredited educational institution, the School is dedicated to academic excellence and lifelong learning. Services include individual assessments, career-related courses, certificate and degree programs, continuing education, and distance learning. Graduate School USA has recently expanded its mission to reflect a greater emphasis on preparing the residents of the District of Columbia for long-term careers. More information can be found at graduateschool.edu.
# # #