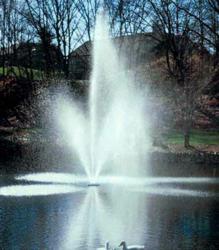 I'm a writer. And a college teacher. And a father, and entrepreneur. I wear four hats.
Michael Guista
Santa Maria, Ca (PRWEB) May 21, 2013
Michael Guista, president of Fountain Mountain, Inc., has published an essay in "IOU: New Writing on Money." The book is a collection about money, making it, losing it, unemployment, poverty, the texture of money, and in Guista's case, "The Price of Waterfalls."
Contributors to the book include a Pulitzer-Prize nominee, nominees and a winner of the National Book Critics Circle Award, and a former Poet Laureate of the United States. The book is distributed for free, but it is suggested the recipient of each copy give something to charity or help someone in need.
In Guista's essay, he traces his roots in the fountain business to growing up on a farm and being fascinated by water running down furrows while irrigating. He becomes obsessed by waterfalls and fountains later in life, building waterfalls for a while, selling fountains for a while, but there were headaches. He finds it much easier to sell floating fountains now, and fountain pumps.
"I'm a writer," Guista says. "And a college teacher. And a father, and entrepreneur. I wear four hats."
Founded in a friend's garage in 1999, Fountain Mountain, Inc. now sells its products, wholesale and retail, across the U.S. In its emphasis on electrical conservation, Fountain Mountain contributes a portion of all sales of floating fountains, pond pumps, and LED lights to CEERT, a non-profit green advocacy group.