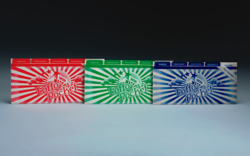 No one wants to miss out on millions, thousands or even hundreds of dollars in lottery winnings
Sunny Isles Beach, FL (PRWEB) May 22, 2013
With millions in lottery winnings unclaimed every year, avid lottery players need a solution that will ensure they take home the winnings they've earned. To that end, Lotto-Pocket LLC has launched Lotto-Pocket, a unique product to help players organize their tickets so they are more likely to be checked and turned in for big prizes.
People around the world love the excitement and anticipation of playing the lottery but they also love the reward when they win. However, while nearly $40 billion in prizes was awarded in the United States in 2011, the Multi-State Lottery Association said another $800 million in prize money went unclaimed.
"No one wants to miss out on millions, thousands or even hundreds of dollars in lottery winnings," said Ralph Dixon, founder of Lotto-Pocket. "Imagine, losing because the one winner was at the bottom of the wrong stack of tickets or fell out of a coat pocket. That won't happen to players who stay organized with Lotto-Pocket. Keep your winnings where they should be—in your Pocket."
Made of lightweight, durable vinyl, Lotto-Pocket provides a handy place to organize and store lottery tickets as well as other lottery playing items. A compact Lotto-Pocket organizer is convenient for people who are in the habit of buying multiple tickets, or for the occasional players who want to make sure their chance remains secure.
Giving lottery players extra flair to go along with their game, the Lotto-Pocket features attractive artwork and is available in red, blue and green. Very portable, the Lotto-Pocket fits neatly into a purse or trouser pocket or can be attached to a car's windshield visor.
Lotto-Pocket features multiple compartments to contain lottery tickets at all stages of play. One compartment holds advance play while others hold pending validation and special promotions tickets. Another compartment is just right for papers with your lucky numbers.
Saving time for lottery players who choose the same numbers frequently, a special compartment within the Lotto-Pocket can hold prefilled play slips. These prefilled play slips can be reused at any lottery retailer, thus saving the state printing costs and cutting down on paper waste.
Busy dealing with work, family and social obligations, people often misplace winning lottery tickets in vehicles, wallets or clothing. Sometimes people throw tickets away without realizing that even a few matching numbers can mean hundreds or thousands of dollars in winnings. Using Lotto-Pocket ensures tickets will be protected and organized until players can review them and secure their winnings.
"Lotto-Pocket means faster play with pre-filled play slips and easily keeping track of lottery tickets," said Dixon. "Staying on top of your game has never been so fast or easy for people on the go. Are your dreams in your Pocket?"
Lottery players and lottery ticket retailers interested in buying or learning more about Lotto-Pocket can visit http://www.lottopocket.com or contact Ralph Dixon at 305-209-1690. Lotto-Pocket sells for $7.49.
About Lotto-Pocket LLC
Founded in 2012 and based in Sunny Isles Beach, Fla., Lotto-Pocket develops innovative products to aid the devoted lottery player. Learn more at http://www.lottopocket.com.