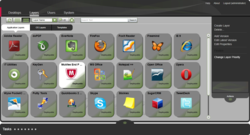 Unidesk layering technology is an innovative, next-generation approach that bypasses complex application virtualization, and enables IT organizations to truly have one golden image that only needs to be patched once.
Anaheim, Calif. (PRWEB) May 21, 2013
Today at Citrix Synergy 2013, MTM Technologies and Unidesk Corporation announced a partnership to bring enhanced management to Virtual Desktop Infrastructure (VDI) and accelerate the movement to cloud-hosted desktops. MTM has joined the Unidesk Certified Solution Partner (UCSP) program and is now offering the Unidesk® VDI management platform as part of its desktop and application virtualization portfolio. Citrix XenDesktop® and VMware Horizon View™ customers who are struggling to satisfy multiple use cases and manage diverse desktop configurations can now turn to MTM and Unidesk for simpler, more powerful application delivery, image management, and desktop provisioning capabilities.
"We see a lot of VDI projects get stuck when customers discover that their applications and desktop images don't line up into nice neat groups," said Rich Brumpton, Director of Solutions Development, MTM Technologies. "Unidesk layering technology is an innovative, next-generation approach that bypasses complex application virtualization, and enables IT organizations to truly have one golden image that only needs to be patched once. By adding Unidesk to our desktop virtualization portfolio, we now have a comprehensive VDI management solution that further enhances our highly successful Virtual Desktop Alliance solution as well as existing environments."
Through the power of Unidesk's Composite Virtualization® layering technology, applications are installed and updated once and then shared across all virtual desktops. Unlike first-generation application virtualization technology, Unidesk layered applications behave the same as locally installed applications. The applications and Microsoft Windows itself are unaware that the applications are actually being shared. Each application's files, data, and registry settings are located in the same places they would normally be. This is because at the time the application was layered, it was installed in the exact same way it would have been normally installed on a regular desktop. Unidesk transparently captures the application and any dependencies in the sharable layer while it is in installation mode. Once layered, applications can be assigned to one or more desktops with a click and a reboot.
Unidesk's patented layering technology offers several other unique advantages for customers implementing VDI:
-- One clean golden image of Windows can be used for all desktops, making operating system patches and updates highly efficient. Patches can be "undone" simply by reverting to a previous OS layer version;
-- Persistent and non-persistent virtual desktops can both created using 70-90% less storage capacity than full-sized virtual desktops, eliminating storage cost as a consideration when trying to decide whether to give users persistent desktops;
-- Profile management tools are no longer needed, since Unidesk persistent desktops keep all user customizations, including user-installed applications. Unidesk also enables service desk staff to quickly resolve common desktop break/fix problems by undoing IT and end user changes.
"As one of the first IT solution providers to build a national practice around VDI, MTM is keenly aware of the management challenges that have stood in the way of broader virtual desktop adoption," said Don Bulens, Unidesk CEO. "We're thrilled to become part of the MTM desktop virtualization portfolio and have them on board as a Unidesk Certified Solution Partner. We look forward to working with MTM to accelerate VDI success for our joint customers."
Tweet This: New VDI partnership between @MTM_INC & @UnideskCorp accelerates @vmwareview and @xendesktop deployments. http://bit.ly/YTFe5o #CitrixSynergy
About MTM Technologies
MTM Technologies, Inc. is a leading national provider of innovative IT solutions and services to Global 2000 and mid-size companies. Partnered with industry-leading technology providers such as Cisco, Citrix, NetApp, Microsoft, EMC, Unidesk and VMware, MTM Technologies delivers solutions to customers from the desktop to the data center to the cloud. Service areas include managed services, technical consulting, professional IT staffing, design and implementation. For more information, visit http://www.mtm.com.
About Unidesk
Unidesk Corporation (http://www.unidesk.com) provides the management platform that accelerates the movement of Microsoft Windows desktops® to the cloud. Unidesk® layering software enables Virtual Desktop Infrastructure (VDI) to deliver more applications, satisfy more use cases, and offer a more personal user experience with less IT effort and less storage. By connecting to Unidesk desktops from Citrix XenDesktop®, VMware Horizon View™ and other brokering solutions, customers expedite VDI projects, reduce desktop operations costs up to 30%, cut VDI storage capacity requirements up to 90%, and enhance worker productivity. Unidesk Corp. is a privately-held company with headquarters in Marlborough, Mass, USA.
Unidesk and Composite Virtualization are registered trademarks of Unidesk Corporation in the United States and/or other jurisdictions. All other trademarks and registered trademarks are property of their respective owners.