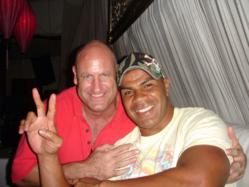 I believe we are saving lives.
San Diego, CA (PRWEB) May 29, 2013
"Had we been on the offense when my brother had sleep apnea, he would still be alive today," says super bowl champion Derrick Kennard. "It is more than a game, and with the right team we can be proactive and come out winning," says David Gergen, President of Pro Player Health Alliance (PPHA). "Proactively networking together we can change the score, increase life expectancy and the quality of life," according to Dr. Brad Eli of San Diego, California.
Sleep disorders are a sleeping giant to an estimated 70 million Americans; 37 million Americans experience regular or chronic snoring and 18 million suffer from sleep apnea. Mr. Gergen's idea to host free events partnered with outstanding doctors and NFL legends has brought out over 1,000 people to be educated on what sleep apnea is and the potentially lethal effects of it going untreated. Mr. Gergen says, "I encourage everyone to come to the PPHA events, if possible, whether it be for yourself or a loved one. By educating the public and doing these events and screenings, I believe we are saving lives."
Lack of sleep can be a hazard on the road in every day life. Drowsiness can slow reaction time as much as driving drunk. The National Highway Traffic Safety Administration estimates that fatigue is a cause in 100,000 auto crashes and 1,550 crash-related deaths a year in the U.S. Mark Walczak, former San Diego Charger who works very closely with PPHA, has learned first-hand the effects of sleep deprivation. His best friend Junior Seau, who is tragically no longer with us, suffered from severe sleep deprivation from untreated sleep disorders. "I lost my best friend Junior Seau from the effects of this condition and I am trying to spread awareness to save lives," said Walczak.
In October of 2010, Junior drove off a cliff in California from falling asleep at the wheel. Police reported, "We're investigating the collision and proceeding as if he just did fall asleep while driving." Luckily, Junior was the only one involved and sustained minor injuries. Due to drowsiness at the wheel, David Gergen and Derek Kennard made a public awareness commercial for driving while fatigued that aired on Nascar. Unfortunate events such as these have been the driving force behind NFL players, past and present, working with PPHA to spread awareness by sharing their stories at events across the country.
About David Gergen
David Gergen, CDT and President of Pro Player Health Alliance, has been a nationally respected dental lab technician for over 25 years. He received the award for "The Finest Orthodontic Technician in the Country" given by Columbus Dental in 1986. He also has been appointed chair of the dental wing of the American Sleep and Breathing Academy a national interdisciplinary academy dedicated to sleep training and education with over 60,000 members. He has worked for some of the pioneers in the orthodontic and sleep dentistry fields. He was the personal technician for the likes of Dr. Robert Ricketts, Dr. Ronald Roth, Dr. A. Paul Serrano, Dr. Clark Jones, Dr. Harold Gelb, Dr. Joseph R. Cohen, Dr. Rodney Willey, Dr. Allan Bernstein, and Dr. Thien Pham. One of his proudest achievements is receiving The National Leadership award for Arizona Small
About Dr. Bradley Eli
Dr. Eli earned a post-doctoral Master's Degree at UCLA where he received advanced training in sleep disorders. He remains the only expert with this unique skill set in the San Diego region. Dr. Eli is on the hospital staff at Scripps Memorial Hospital La Jolla and UCSD. He is a member of numerous professional associations including the American Academy of Sleep Medicine and the American Academy of Dental Sleep Medicine. He holds multiple patents in the fields of both sleep and pain.
About Pro Player Health Alliance
The Pro Players Health Alliance (PPHA) is an organization dedicated to helping former NFL players, through providing testing and treatment options for those who suffer from sleep apnea. In addition, the PPHA is dedicated to integrating education and raising sleep apnea awareness, in a fun and memorable way. In addition to the campaign, the PPHA is dedicated to testing and getting people treated who suffer from sleep apnea. The PPHA was created by David Gergen, President of Gergen's Orthodontic Lab and Former NFL legends.