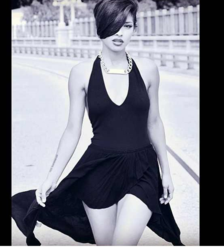 "The meaning of Izma (Is.Ma) name is higher position, high esteemed, privileged & honored."
Los Angeles, California (PRWEB) May 20, 2013
IZMA Model Jennifer Martinez lands national campaign with Sebastian Hair Professionals.
This Salvadorian beauty has been featured in numerous campaigns as well as music videos for such artists as Neo-Soul Artist Musiq Soulchid and R&B sensation Jeremih. Martinez who is being represented by Trina McCoy, president of IZMA Models states, "We are excited for Jennifer as she continues to grow in this business, which is not an easy business."
The campaign will go live in North America in September of this year. It will primarily be used in trade publications (Modern Salon, American Salon, Behind the Chair, etc.), in-store units and education materials. Jennifer's images will also be on the Sebastian website.
About Sebastian Hair Professionals
Being a passionate professional hair care and cosmetics, Sebastian has driven to be the leader in their industry through vision, conceptual innovation and creative identity. With cruelty-free products and recyclable packaging, Sebastian had been in the right place all along. The more successful the company became, the more they were able to give -- to the right causes.
About IZMA Models
IZMA Models is a model and talent agency that represents some of the most beautiful and best models nationwide, founded by Katrina "Trina" McCoy in 2006. IZMA provides photographers, casting directors, advertisers, marketers and designers all over the world with the highest caliber male and female models.
Based in Los Angeles, CA, IZMAModels highly experienced team of bookers pride themselves on being personal, professional and thorough.
###