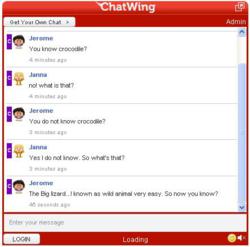 San Francisco, CA (PRWEB) May 20, 2013
After carefully studying the feedback of thousands of users, Chatwing team finally integrated some important features to the company chatbox. With these new features, users can have renewed chatting experience and they can even have higher exposure rate for their websites or blogs. The speed of information relay in the chatroom is also tripled because of these integrated features.

Chat Network System – This feature has been tested out before, and now it sported a thriving return. With the chat network system, users can now connect their chatrooms under a specific niche. Once chatrooms are properly connected, the users can now exchange important data. Connecting to a network can be accomplished in the account dashboard with just few clicks.
Live User Detection – Chatwing also launched the second theme of its chat app. The live user detection is just a sidebar extension, allowing chatroom admins to see the current active visitors. They can also check out the messages they typed, along with their social media profiles. This theme can be activated or deactivated in the dashboard.
Live Image Upload System – Visitors of the chatroom can also upload images directly. This happens within seconds, and can benefit anyone who wants to spearhead an online marketing or branding campaign. The direct links of the images must also be working properly so that the platform can recognize them.
Chatwing.com will always have feature updates in Facebook. Users are advised to visit Chatwing's Facebook page for more information. The developers will also post maintenance schedules in the Facebook page to keep users and clients well-informed.
About Chatwing.com
Chatwing.com specializes in the new field of website chat. Over years, the Chatwing team has introduced live chat widget for hundreds and thousands of blogs. The Chatwing application bridges people from many parts of the world, creating global synergy through the Internet. The shout box can be installed in just seconds, and it can be used for varying purposes such as leisure and Internet marketing. It also allows a user to customize the size, color, and name of the widget.