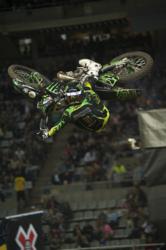 "Thirty years ago I started riding moto and dreamt that maybe one day I would win a gold medal," said Torronteras. "Today I won a gold medal, and it is the best day of my life! My dream is complete. I want to ride more and more and win more medals."
Barcelona, Spain (PRWEB) May 21, 2013
Monster Energy's motocross team bagged another triple podium finish with Edgar Torronteras, Jeremy "Twitch" Stenberg and Josh Hansen clearing up the medals in the Moto X Best Whip contest on the final day of X Games Barcelona.
Following on from the success of X Games Foz Do Iguacu where Stenberg took the gold, Torronteras silver and Hansen the bronze, the three riders stole the stage yet again, winning huge applause for every single attempt during the six minute 'Jam Session' judged solely by Twitter fans across the globe. This time in Barcelona Torronteras took Gold, Stenberg took silver and Hansen took the bronze again.
With the hometown on his side, Torronteras played up to his fans offering incredibly creative, yet controlled whips, and was on from his very first run making it clear he would most likely be taking home a medal.
"Thirty years ago I started riding moto and dreamt that maybe one day I would win a gold medal," said Torronteras. "Today I won a gold medal, and it is the best day of my life! My dream is complete. I want to ride more and more and win more medals."
At the two-minute mark, Hansen was battling Torronteras closely in the rankings, with Stenberg following just behind. Around half way in Stenberg began to stomp up his riding and the votes, pushing him into a solid competition for the gold, but it was Torronteras who upped the intensity, stoking the crowd and reaching a massive 42% with one minute to go.
The last 30 seconds saw a display of massive crowd-pleasing whip trick variations with all the riders trying to catch Torronteras. The final standings had Torronteras at 29%, with his Monster Energy team mate Stenberg just two percent behind, whilst Hansen finished the contest with 20% of the viewers' votes.
When asked about the crowd, Torronteras said, "It was amazing. It's my city and my people. When I put my hands up they cheer for me so loud. I work hard for the fans always, but tonight just felt so special. It's super important to thank my fans for sending tweets for me tonight. 7,000 people voted through Monster Spanish Twitter so Muchas Gracias!"
Just missing out on what would have been his fourth consecutive gold in X Games Best Whip, Stenberg was happy to see the top medal go to Torronteras.
"It felt awesome out there tonight, it was always going to be hard as hell to beat Edgar in his hometown. You can't take anything from the guy, his whips are huge and the crowd loves him. If anyone was going to beat me I'm glad it was Edgar!"
"It felt so great out there. My whips felt pretty big and they felt like gold, but it's fan voted and I'm so happy to have the fans support on this one," said Hansen.
For more on Hansen, Stenberg, and Torronteras, and X Games Barcelona 2013 including exclusive photos and daily recaps, check out http://www.monsterenergy.com or monsterenergy.com/facebook.
###
About Monster Beverage Corporation:
Based in Corona, California, Monster Beverage Corporation is the leading marketer and distributor of energy drinks and alternative beverages. Refusing to acknowledge the traditional, Monster Beverage Corporation supports the scene and sport. Whether motocross, off-road, NASCAR, BMX, surf, snowboard, ski, skateboard, or the rock and roll lifestyle, Monster is a brand that believes in authenticity and the core of what its sports, athletes and musicians represent. More than a drink, it's the way of life lived by athletes, sports, bands, believers and fans. See more about Monster Beverage Corporation including all of its drinks at http://www.monsterenergy.com.