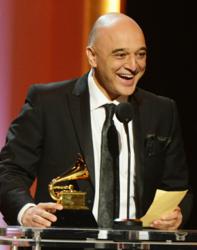 I felt so honored to be recognized for my work when I won the Grammy Award this year
BEVERLY HILLS, CA (PRWEB) May 22, 2013
Coming off the heels of his historic Grammy Award win, New Age Artist and musical wonder Omar Akram has joined YM & Associates to promote his most recent album and upcoming musical appearances. Akram is known for becoming the first Afghan American artist to win a Grammy Award for Best New Age Album in February for his album "Echoes of Love" released last year.
Akram, who was born in New York City, is a gifted composer, pianist and musician with multiple musical disciplines. The son of a United Nations diplomat, Akram has traveled all over the world to many countries such as France, Germany, Afghanistan, Cuba and the Czech Republic. In his travels, Akram became fluent in four languages, including English, Farsi, French and Spanish. Akram began learning to play the piano at the age of six. Growing up, his musical influences were shaped by Bach, Mozart, Beethoven, the "Russian School" of Tchaikovsky, Rachmaninoff, Stravinsky and Shostakovich. As a world traveler, Akram would learn, train and perform as he toured and settled into different countries before eventually returning to the U.S.
"I felt so honored to be recognized for my work when I won the Grammy Award this year," said Akram. "I am humbled to have trained with some of the most talented music instructors and to have performed all over the world, leading up to the moment when I received my Grammy Award for Best New Age Album, which I will cherish forever," he added.
Akram is currently making media appearances and has already gained the attention of Los Angeles Magazine, TMZ, Splash News, KSBR Radio Station in Orange County, Wire Images, Getty Images, and WENN Images. Since earning his Grammy Award, he also made guest appearances at events for Star Magazine and OK! Magazine, as well as many other charity events.
Omar is currently signed with Real Music and his Grammy Winning Album "Echoes of Love" was produced, arranged and co-written by Gregg Karukas.
For more information about Omar Akram, visit http://www.omarmusic.com or follow him on Twitter at @Oakram.
For media inquiries and interviews, please contact YM & Associates PR | Marketing | Branding at Media@YM-PR.com or call 949-244-9769.
Yvette Morales
YM & Associates
PR | Marketing | Branding
California | New York
949.244.9769 | 310.499.0906 Fax
YMoralesY(at)YM-PR(dot)com
http://www.YM-PR.com
Twitter @YMTheBevHillsPRs